on my XR8 I was trying to set up an air/fuel mixture guage to tune her properly, when I used the diagnotic connector self test output pin for a battery voltage when ign on, there is no voltage at all?
according to a manual I have ,this is supposed to be battery voltage with ign on, but theres nothing.
could this have something to do with my car being so variable with power, sometimes it seems to go a s**t harder than others?
_________________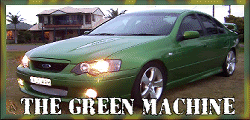 IF YOU HAVE IT UNDER CONTROL
YOU SIMPLY DON'T HAVE ENOUGH POWER!!!
Detroit 8V71 for sale, taking offers