The spark and fuel tables are tables for the amount of spark to deliver and the a/f ratio to command if you are NOT open loop. Open loop is when you are richer than 14.64:1 a/f raito and no longer using the O2 sensors for feedback. The PCM uses load in calculating spark and fuel. If your MAF transfer function is off (this is the input voltage from the meter to the PCM and what the flow is at that voltage) VE will be calculated incorrectly and hence so will timing and fuel be calculated incorrectly. This is why the MAF is so critical to making the engine work right. VE gets an input into almost everything, even what the trans feels like when it is shifting.
Most will say that you can get a MAF calibrated for a given size injector and not change the PCM. This is right and wrong. Let's say you have 19# injectors and some MAF. You want to put in 38# injectors. You purchase a MAF calibrated for 38#ers. What they do is TRY to make it so at every voltage point the output from the MAF is original injector size divided by new injector size, in this example, 19/38 or 1/2 of the original value. The PCM now thinks there is a lot lesse airflow into the engine. Let's say before at 2 volts it was 12#/min, now with the "new" MAF, to get that same 12#/min you are at 1 volt. So, you now running at 1 volt with 12#/min of air and the PCM thinks you are running much lower flow, thus giving you a lower fuel pulsewidth. If the air meter was set up correctly, you would have 1/2 the pulsewidth and the amount of fuel going into the engine will be correct. This is the part that's right.
Now the wrong part. Load is calculated incorrectly, in this example, it's 1/2 of what it should be. So, the PCM uses the wrong values out of the spark and fuel tables. This typically ends up in knock (also known as detonation, or pinging) on some cars, since the car is leaner with more spark.
The correct way to calibrate for injectors is ALWAYS to make changes in the PCM via a chip or flash.
_________________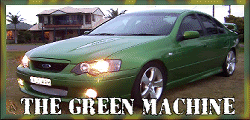 IF YOU HAVE IT UNDER CONTROL
YOU SIMPLY DON'T HAVE ENOUGH POWER!!!
Detroit 8V71 for sale, taking offers