Actually all it is, is a 15k 1/4 watt, the colour code is gold, oronge, red, brown.
this fools the ecu to calculate fuel mixtures as if the intake air temp is 0 degrees C, therefore being denser, needing a richer fuel mixture as if it was cold, the main problem with this mod is , the ecu also uses coolant temp for calculations, therefor confusing the ecu. to rectify this problem use a colder thermostat & modify the temp signal going back into the ecu, If you do all of this ,remember the temp guage will be incorrect aswell
I gained 15hp at the treads by doing this mod, but my engine isn't quit standard.
kenny
_________________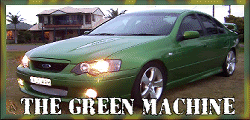 IF YOU HAVE IT UNDER CONTROL
YOU SIMPLY DON'T HAVE ENOUGH POWER!!!
Detroit 8V71 for sale, taking offers