CHEF wrote:
Motec's not really all that more expensive than say wolf, microtec, ems ect... sure they start at $2200 plus plus plus... but they are dam good, serious kit. I have quite a few friends using Motec and they are worth the extra grand or so...
I recently had a guy look at my requirements ,and he quoted me $2200-$2800 for a management system that was equivalent to the EEC-V, this guy tunes race cars and sugested finding someone who could re-program the factory ECU to suit the new/old & modified sensors exactly, also in this case it would not be illegal and would result in much the same.
as for "cheaper/piggyback" ecu's you would need atleast 25 tuning points for a street car and ecu's with 10-15 are only good for WOT not economy.
But as you have stated Motec are a great unit providing you get the right one to suit you're needs, but is it worth it considering the USA ecu will do basicly the same thing, when tuned to suit??
_________________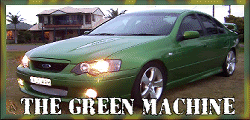 IF YOU HAVE IT UNDER CONTROL
YOU SIMPLY DON'T HAVE ENOUGH POWER!!!
Detroit 8V71 for sale, taking offers