Drain cooling system and remove radiator, remove battery, remove serp belt, unbolt air con compressor from engine and put to one side, remove power steer pump and put to one side, remove induction tubes, disconnect wiring at the firewall, disconnect accelerator cable, disconnect vacuum lines from brake booster etc, disconnect negative battery cables from block, disconnect positive battery cable from the starter motor, disconnect heater hoses from heater tap and bypass tube, disconnect fuel lines, disconnect wiring from distributor and temperature senders, disconnect automatic shifter linkage, drain auto fluid, remove driveshaft, place jack under rear end of transmission, remove transmission crossmember, lower jack until rocker cover rests on firewall, connect suitable lifting gear to engine lifting points and engine crane, raise crane until it takes the weight of the engine, remove the engine mount through bolts from the k-frame, using the crane and the jack, lift the engine and transmission assembly out of the vehicle, the jack helps the trans to roll forward.
Then you should have something that looks like this: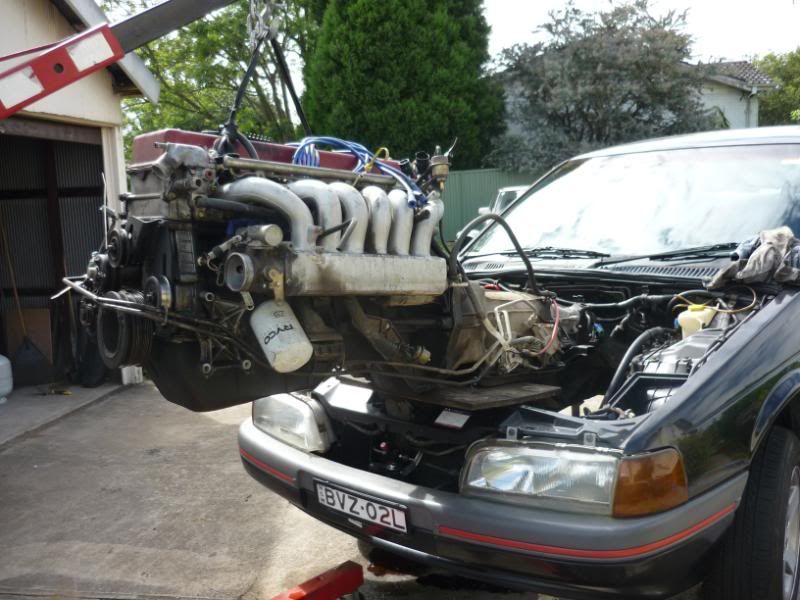 That's going off memory nearly a year ago. I probably missed something...
Seriously, invest $50 into a service manual. It will pay for itself.
Edit: Might need to disconnect the cat converter from the exhaust manifold. It will make things easier lol.