NikkiBoi wrote:
Hey guys my name is Nick and i've just recently turned 18, i bought this car off my uncles mate before he left VIC to head for the mines in WA

General Info

Make: Ford
Model: EF Fairmont Ghia
Year: 1996
Colour: Dynamic White

Mechanical

Engine: 4.0i OHC with a tickford head (so i've been told, anyway of checking??)
Trans: Auto
Diff: stock, single spinner
Brakes: stock
Odometer: 301,000

Styling

wheels: stock 16"
Interor: Leather front and rear seats with wood grain inserts in the door trim, chrome interior door handles, handbrake and trans button
Sound: stock ford premium sound with alpine 6 stack cd player

Planning on putting an SS Big Mouth Induction Kit with either a K&N or BMC air filter, Lukey or Pacemaker extractors into a 2 1/2" or 2 3/4" exhaust from extractors back with a Lukey Ultra Flo Muffler, just wondering what u guys think and any advice on mods/ point in the right direction would be greatly be appreciated. also wondering what you guys think of a 19" Dark Agent wheels (F6 typhoon replica's made to fit pre AU) on an ef? any other rim suggestions??? Got pics of the car but can't upload them because thy're too big, any ideas on how to post them??
well if ures is a series 2 ghia like mine youll have black b pillars, thats a visual from the outside.. you should have a 3.45 lsd so if u say ures is single spinner its flogged out.. as others have said rede rocker cover and T on the front of the head.. also 300 kpa regulator ( think its 300 - might be 260 or something)
wade 1636 cam did mine awesome when it was stil n/a.. that and ticky intake/ectractors/system and shift kit got me wheelspinning ( heaps) of 15.2 at the plex.. then i had enuf and boosted it..
awesome base for mods - ghias got all the good bits that everyone adds later anyways...lol..
post some piccys..
_________________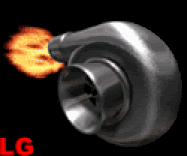 15 PSI OF BOOSTED GHIA GOODNESS!!!