Hey guys,
Finally got my DEV 5 equipped EL XR6 fitted up with a CAPA Eliminator Switch Chip and custom dyno tuned last week.
Dyno sheets as follows:
POWER / TORQUE
POWER / AFR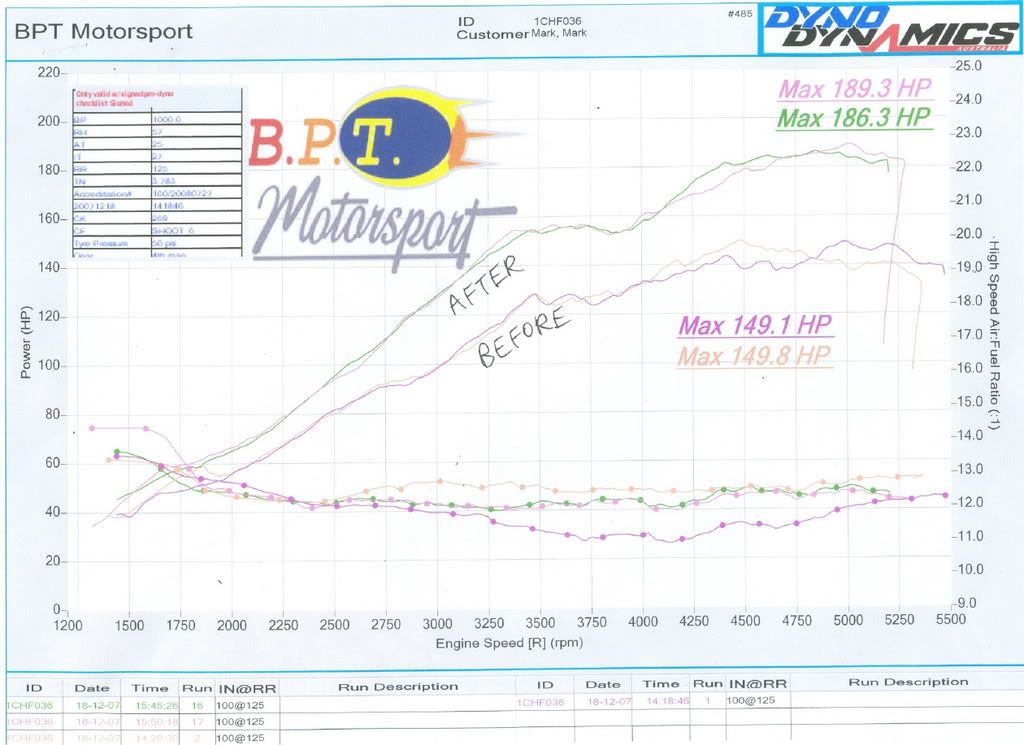 The 'BEFORE' curves are basically after the first step of returning the ignition timing back to stock before the tune itself ...the 'AFTER' curves.
As you can see ...the results are pretty mixed
1.
Power is lower than expected at 189 rwHP (141 rwkw) ...I would have expected higher from a DEV 5 ...a bit disappointing.
2.
The curve takes a sharpish drop at the 3300-3800 rpm BBM switchover point, and never really regains momentum from there.
The guys at BPT were a little stumped (as was I) ...and said that it was almost impossible to tune beyond the BBM switchover point.
Terry at BPT did say that it looked like I had a 'cam phasing' issue going on.
At this point I will mention that I recently had the timing chain replaced, in a futile attempt to fix the annoying rattle that seems to plague most DEV equipped Falcons ...it still happens between 1200-1500 rpm.
Of course, this got me thinking that maybe the cam timing was knocked out-of-wack when the chain was replaced? (I have the JMM vernier gear installed)
I got on the phone to Brendan Mock and explained the results and the timing chain renewal ...and he virtually said straight away that something must be amiss with my cam timing ...and that I should easily be pulling another 40-50 HP!
Brendan loosely told me that the cam should be running at 50 thou valve lift at TDC on the intake side.
Feel-wise, everything is definitely a lot smoother (especially the idle, and the absence of rev-hang and stuff) ...but I am finding a bit of lag in 2nd - 3rd gear between 1500-3000 rpm, and she generally feels a bit more reluctant to get up and boogie than she did before.
Anyway, I now have her rebooked in at BPT on 21st JAN for them to check and adjust the cam timing while on the dyno ...so I'm definitely hoping for a decent improvement!
Looking at the dyno sheets ...WHAT DO YOU GUYS THINK? ...AM I ON THE RIGHT TRACK WITH THE CAM-TIMING THING? ...OR SHOULD I BE CONCERNED ABOUT OTHER POSSIBLE CAUSES?
I'm a little p****d off at the moment ...because I expected that the Eliminator Chip / custom dyno tune would've yielded much better results!
Any thoughts / suggestions welcome!
Cheers
_________________
Hot Chilli Red EL XR6, 5-spd, JMM DEV 5 enhanced (161 rwkw custom tuned), Eliminator Switch Chip, 18" BA GTP rims, Pedders Superlows, BA XR6 badges, BA Sunroof, Pioneer Stereo, Splits, 6x9's, 10" sub, 700W 6-ch Viper amp.
QUARTER MILE PB: currently 14.590 @ 96.00 mph ...BOOST AHEAD!!