Well instead of going on the cruise (I should have) i went and got a new steering wheel for my car.
Genuine MOMO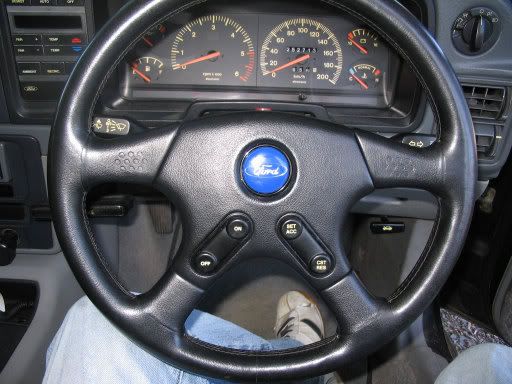 Now getting the old one off was easy, shifter and hammer. Had to go to the neighbours for socket big enough to get the new one on. After a couple of drives got it in the right position. Now I then looked under my car saw coolant
OK it's coming out the overflow, all good hadn't happened before but i did just give it a bootful, also more trans fluid then normally leaks (already spent about $400+ trying to fix this
) And also it's sometimes not starting first time and then running rough for a few seconds.
Now yesterday I thought I'd buy some injector cleaner put the whole bottle in, and flame away some trans stop leak which is supposed to give smoother changes (which it does). Now after it running hotter then usual 'M' (See pic above) I thought i'd bite the bullet and do something I'd been putting off. I went to the auto store bought 3 new hoses 5 litres of coolant new thermostat and new diff oil cause my LSD is starting to become a single-spinner.
After 3 hrs lots of hissy-fits all was done, stupid bottom hose, in the process I'd broken a wire off the alternator, so it was dark by the time I got to drive it.
Well it's now running cooler between just before 'N' to 'O' but it wasn't hot outside, will wait for that day. So fingers crossed it keeps starting properly.
Next on list is new coil, leads plugs dizzy cap and rotor (after chrissy)
So that was my weekend, lots of driving and spent about $700 including the wheel
but damn that wheel is sexy and feels friggin awesome!
Fun fun
Ben