Hey All,
I've been thinking about a Startup Controller for the Carputer, and I want it to be cheap and reliable. I like relays, they almost never fail, they're cheap and they're simple. I also want the Carputer to start as soon as possible. I know that I can buy a Startup / Shutdown controller, but I don't believe that 'Custom Made' means buying off the shelf components and plugging them in. Anyway, what do you electrical gurus think of this -
Step 1 - Car off and locked, Carputer off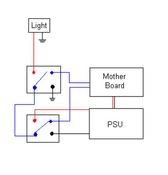 The interior light is off, so the first relay will not close - nothing happens.
Step 2 - unlock car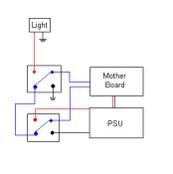 When I unlock the car, the interior light comes on which closes the first relay (normally open). This is like pressing the power button on the computer - it sends a signal to the motherboard telling it to turn on the PSU
Step 3 - PSU powered up
When the PSU receives the command to turn on, it then opens the second relay (normally closed) which is like releasing the power button on the computer. This happens almost instantly.
So, while the Carputer is on, opening or shutting the doors or swiching on or off the interior lights will do nothing, because the 2nd relay is open. Of course this does not turn the carputer off, but with a seperate battery for the carputer it doesn't really matter, I won't kill the cars battery.
Hopefully, with this controller, by the time I get into the car the carputer should be running, even if it was turned off altogether (I normally just put it in standby though). What do you think?
Panda
_________________

Car - Ford Falcon XR6 Turbo, Pioneer front speakers, Fusion Subwoofer, Centre Muffler removed
Carputer- P3 966MHz, 256MB RAM, 200GB HDD, 300W PSU, MP3, DVD, Sat-Nav, Digital TV Tuner