As most exterior mods people do to there cars its completly up to personal preference.
You have a good idea of what you want so go for that, the twin 3" idea sounds great and as shown nicly by GlennBA they looking s**t hot!
Personally anything over 3.5" for single tip is over kill, instead of going up from there just go twin.
I like the straight edge instead of the rolled tip.
This is what i had, looks maybe 2" with rolled lip,
This is what i got for free with my JMM dev 3 kit, striaght lip 3",
i might look into going Twin, Straight Cut, 2½" Inlet, 3", like this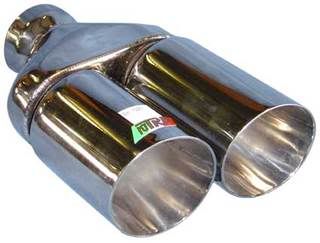 hope it fits
_________________


FOR SALE-------- ford-parts-for-sale-f17/fs-qld-ea-eb-ed-parts-t76152.html

Build Thread-- commercial-sponsors-forum-f53/mick-s-itlookslikeaxr6-ed-build-power-windows-finished-t76191.html