Hi there, i'm after some opinions on the exterior scheme of my latest project, so far I have decided that it will have an XE front and an XF tail, pumped guards for the big rubber that is already on it (305/50/15 & 265/50/15)
now here's the original plan, It was/is to be painted in the d**k Johnson greens tuff race car scheme, but with slightly smaller flares.
But I am open minded to go the unique look if something apeals to me enough.
Regardless of the theme it will have a blower thru the bonnet, as the powertrain has already been selected
Has anyone got any pics of the d**k car? f**k that was a tuff car.
cheers kenny
_________________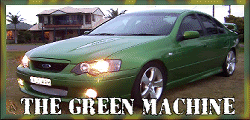 IF YOU HAVE IT UNDER CONTROL
YOU SIMPLY DON'T HAVE ENOUGH POWER!!!
Detroit 8V71 for sale, taking offers