XRated wrote:
I have been mucking about and got the designs printed professionally on transparent film (two of each so I could over lay them to stop the black parts lighting up), I put white paper behind the numbers etc. However, when the lights are on, the black parts let through light anyway.. So I need to somehow stop it doing that - I am going to try some thin black cardboard, and maybe even sand off the top layer on the original (will get a spare) plastic if the card doesn't work.
What a bastard of a setup.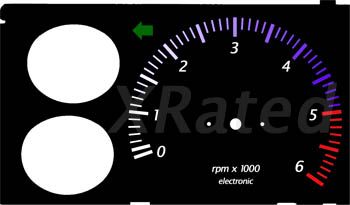 The best thing to do would be to use a bit of shim steel or shim aluminium, no thicker than the paper. It would need to be lasercut and for you to get it done would cost you an arm and a leg.
However. I get a lot of laser cutting done for work and I would be happy to get some templates lasercut for people on fordmods. Only problem is I'd need to do it in quantities. A one off every now and then would still cost a lot for me.
Just my estimate, a full dash template cut out of 0.5mm aluminium would probably come to about $10 each. That's just a very rough guestimate, but before I can get a price from my laser cutter, I'd need to convert the template to an autocad file and get an idea of how many people would be interested.
Converting the template to autocad would take me a long time as I'm only a self taught amature when it comes to autocad. But, if someone out there had good drafting skills and is good with autocad, we could combine our efforts.
Last edited by unclewoja on Wed Sep 28, 2005 9:08 pm, edited 1 time in total.