Papa Smurf wrote:
Funny KwikXR, I was about to inform CCZ that he should ask YOU and bugger me, you must have read my mind
I love the job you did with the black on your Cover, it is something I am going to emulate as is MiniSmurf.
Thanks mate, glad i could sway others into going for a black AU rocker cover
cczfairmont wrote:
any chance you could show us some pics of your under bonnet gear kwik?
Sure mate, i'll find them and edit this post with the pictures, i would point you to my build thread which is linked in my sig but even id be looking back through it to find which page it was posted on
..
EDIT: Okay, this was my second rocker cover which i did using Duplicolor metalcast spray paint. For this you need the Duplicolor Metalcast Groundcoat which is a metallic silver base, i.e has tiny metal specs in it. And as the top coat i used Duplicolor Metalcast Red Anodize, its like a really thin top coat which is almost just a dye, the point of this is to add the colour to the base coat i.e you get your shine from the silver coat underneath and your colour from the top coat. They also have other colors too. With the top coat, the more coats you spray the darker it becomes so i sprayed a few coats of it and got a candy red kinda effect going on, and when in the sun it looks like a mix of red/orange and picks up all the metal spec's underneath it, pretty cool stuff. Also gave it a few coats of clear enamel to seal it and give it a bit more gloss. This also allows you to cut and polish it when it needs it (i.e removing any tiny scratches) without taking off any of the red top coat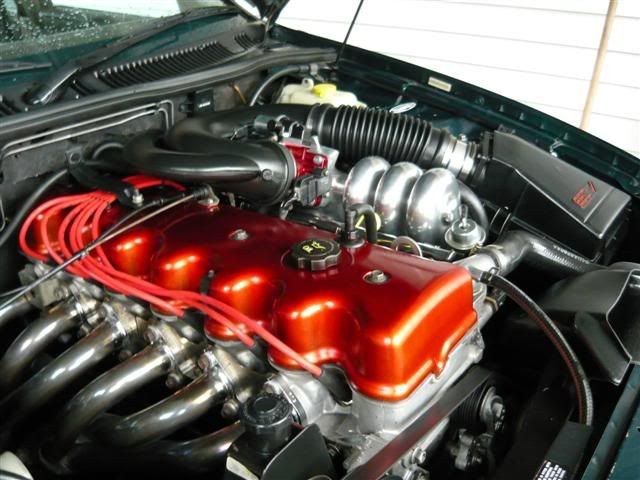 My third rocker cover is the AU one which i am now using, has been sprayed using the Duplicolor ground coat first as this stuff is the bomb when it comes to being a base coat for anything metal IMO. Gives the top coat much better sticking ability also and because you can spray it in thick coats without it running, you can fill any scratches or pits in the rocker cover casting. Top coat was just VHT hi temp gloss black. A few coats of the black and a few coats of duplicolor clear enamel and it was done. The fins and lettering were just block sanded back to bare metal just before the clear coating.
Just a few tips when painting it, which is more or less common sense..
1. Strip the rocker cover back to bare metal first unless it is already bare metal to start with which is the case with some covers i've seen.
2. Use a file to remove any casting dags/burrs around the edges to give it a smooth look. Sand the entire rocker cover back smooth starting with course sand paper (i think i started with P150 dry) to remove as much pitting in the casting. Work your way up in grades of sand paper i.e 150, 240, 320, 400, 600, 800. When i got to using the 320 paper i started wet sanding to make it smoother and not make as many scuffs in the cast. I went up to P600 wet sanding i think and let the groundcoat fill up any scratches that the 600 grit paper left.
3. Before you start spraying, clean the entire rocker cover using wax and grease remover to remove and dirt/dust that has got onto the surface - this will ensure the paint will stick as best it can.
4. When you are done, let the paint air dry for say 15mins or so, then go over it with a hot air gun on a low setting or a hair dryer just to heat the paint up an cure it a bit. Leave it overnight to dry or if you're like me, leave it for a few hours before installation.
If you want you can do a light sand between each coat to give it a real good finish, but i never do and i havent had anything go wrong later on so it all comes down to personal preference. As long as you keep the surface as clean as you possibly can before you spray the first coat and between each coat you spray after that you cant go wrong.