Just purchased an AU3 XR8 Rebel so the fairmont has to go.
Original 160K
All Ghia options.
Premium Sound/CD stacker
Option EL XR full body kit(fitted from factory)
Option XR Sports suspension(fiited from factory)
Brand new 17" tyres fitted to AJR Rims
New full window tint 25%
New 2.5" cat back exhaust
New Headlights fitted
New brakes front and Rear.
Option "Large" auto trans cooler(fiited from factory).
Tickford xr6 I6 auto excellent condition.
LSD 3.45 Factory fitted.
Body and Interior in excellent condition.Any part that needed to be replaced has been.
Only slight roof linning sag at rear(It's an el thing!)
QLD Rego till October 2009
Color is Dark Green/Cappa
$5000 with full RWC supplied.
Pics to come.(Camera on charge)
Old Pic
Now has AJR 17" Re-Done Tint Clear side repeaters.
Will get more up when wife get's back.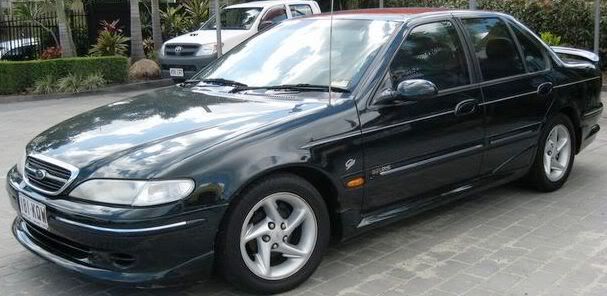 PM or contact 0425 774 732
Cheers
Dazza
Last edited by hales231271 on Sun Mar 15, 2009 8:37 am, edited 2 times in total.