Make: FORD FALCON
Model: TURBO WAGON
Year: 2002
Colour: RED
Engine: BF F6
Transmission: BF 6SPD AUTO
Odometer: 350
State: VIC (CAN FREIGHT)
Price: $35000 offers invited
well after a few months of planning and building , the BA TURBO wagon is for sale.
This wagon hasn't just been thrown together , we have put a lot of thought into building a total package, and the results speak for themselves.
The engine is a 315rwkw F6 motor that had done only 31kms when we got it. same with the ZF 6 speed auto. these two parts are genuine FPV F6 parts.
The diff is from a BF tornado ute that had only 4000ks on it. it is the correct 2.73 ratio lsd 30 spline diff. the tailshaft is a modified BF tornado one , so this wagon now runs a 2 peice shaft.
Inside we have retained the Grey Futura trim.It is different from every other BA with the black trim. we have fitted duel zone climate control, premium sound with tft screen.auto headlamp, FPV cluster with correct ks for engine and auto , FPV starter button, XR pedal pads on adjustable pedals. BF ignition lock, FPV silver fascia on ICC, cup holder and shifter surround. Leather console lid, New floor mats, Leather momo type steering wheel with FPV logo and woodgrain look inserts.with matching inserts in the dash, BF alloy inside grab handles, Blue illuminated window switches aswell as blue illuminated clock , cluster and ICC.
we have also added BF ABS and traction control , a BF XR front . FTG brake upgrade on the front & rear . FPV/tickford suspension , GT clock, correct typhoon intercooler , wiring and fuel pump.
wheels are BA GT-P , front tyres are excellent condition and rear tyres will be replaced new before delivery to new owner.
car comes with the capa flash tune and has made 315.9kw on code blue tunings dyno!!
Has a huge 3 3/4" exhaust from the dump pipe to the tailpipe. then it reduces in the tailpipe to keep it quiet(ish) so its legal.
This car drives A1 and is very fast!! cost to build (in parts only)would be far more than the asking price. then throw in over 5k in labour.
if you are interested in this car it will be on display at the FPV day 25th feb. i will take a deposit before then but it wont be sold until after that display.
I can be contacted on 03 9758 6900 (ask for Darren)
or send a email to me at
sales@ftgautosalvage.com.au
in summary , these are some of the features of the car,
BA Futura Wagon (red in colour)
window tint
BF XR front
322MM brake upgrade
Vented rear brake upgrade
BF typhoon 270kw motor
BF 6 speed auto trans
Typhoon front suspension & tickford wagon rear springs
BF tornado diff
4" dump pipe, 4" cat and custom exhaust
F6 typhoon intercooler
Flash tune 3 tunes,capa injectors (315.9 rwkw)
Dual zone climate control with colour screen, silver fascia and blue illumination
FPV cluster
Leather/woodgrain momo type steering wheel & matching dash trims
FPV scuff plate inserts
GTP wheels
Alloy pedal pads.
GT-P clock.
Leather console lid
FPV rear console section
FPV F6 air box and dual intakes
Computer cover
adjustable pedals
Traction control & ABS
FPV console surround
Typoon 6 spd shifter.
FPV alarm
Auto headlamps
new floor mats
Blue illuminated window switches
FPV starter button
plus more i have forgotten !!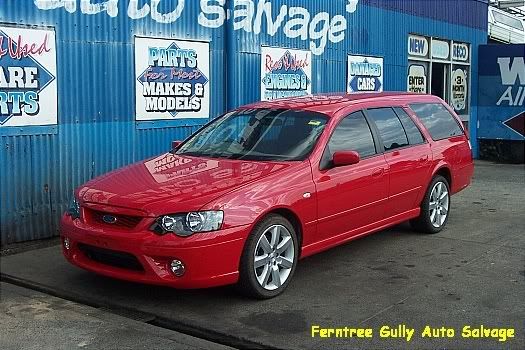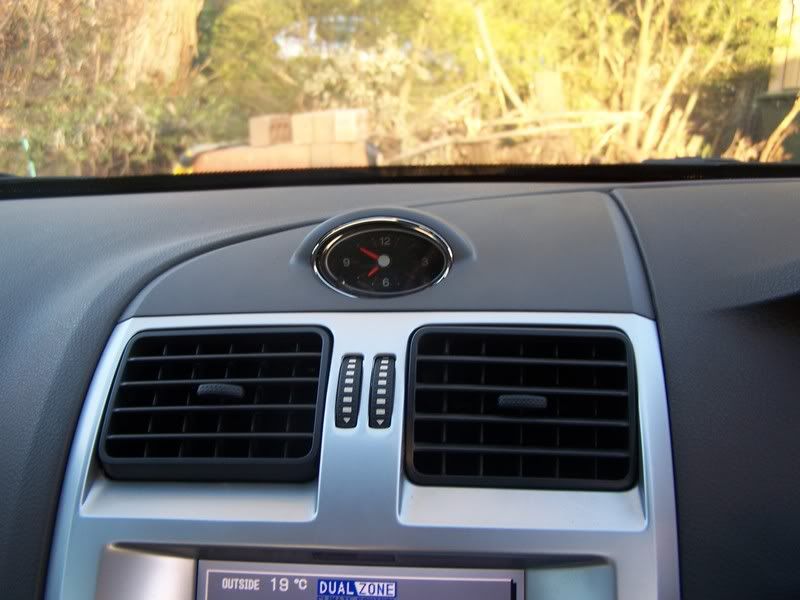 pic taken before pedal pads and clock fitted
info on the build can be found here
http://www.fordmods.com/forums/viewtopic.php?t=42466
Last edited by xr8 dismantler on Wed Feb 21, 2007 9:06 am, edited 1 time in total.