Make: Ford
Model: AU XR6
Year: 1999
Colour: Galaxy Blue
Engine: 4.0L
Transmission: A/S 4sp auto
Body Type: Sedan
Odometer: 167000
State: TAS
Price: $7500 Neg
This is basically tough love, I love the car but dont want it getting destroyed by these roads any more, add to that the fact that I really dont need it and it only gets driven to keep the battery charged.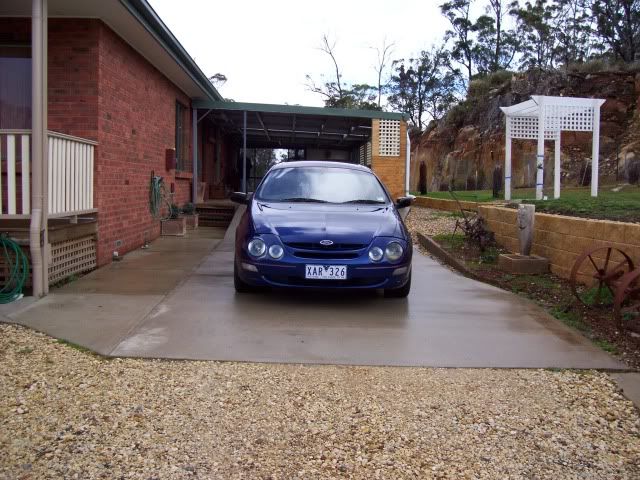 Good:
Brand new in dash single din DVD/Xvid/DivX/AVI/Mpg/Mp3/Ps2/ just about anything player.
It folds out at a touch of the button to the motorised tft touch lcd screen to navigate and watch movies, otherwise, keep it closed and it does all the same things except, well, its closed. Honestly, as soon as I installed it I hunted through the cd wallet and found a 5 year old cd with "movies" written on it and no problems just starts going, really is an amazing bit of kit. Has all sorts of rca in's and outs too, so anything like PS2, Xbox, ipod, etc would take all of 5 seconds to hook up. I also used a harness adaptor, and have the original 6 stacker (working) with the code stored in a safe place, again, just a matter of taking the underpocket out, unplugging the harness and slipping the old one in. Also plays DVD Mp3, so at the moment I have about 500cd's worth of music on one dvd. Has got a remote but the battery is flat (I assume) because its never worked from new. Pic of it open:
Pacemaker 4499 Headers (bought new), still have a receipt for these somewhere, and original headers are im sure still in the shed somewhere. I had them powder coated, but it melted and now its just like a fine white powder residue, I was really annoyed but couldnt be bothered taking them back off to get it done again. Wants oven paint.
Redback 2.5 inch cat back, 1 muffler
High flow cat, unsure of brand, but I know its definately high flow and near new
Red Momo wheel
Tickford 17's
Car bra
Awesome bit of gear, embroidered with the Tickford "T" and wings, cost $500 and receipt might still be here, really awesome.
Tow pack
Ive never towed and neither did the last owner, looks pretty unused
Tinted windows.
Its been on the dyno, made around 175kw, forget the torque but was a steady curve, have a printout somewhere.
new S3 tail lights
Bad:
One 2cm long scratch on front drivers guard, I have new touch up paint, but just been too busy
Tiny bit of peeling clear paint on top of drivers door, in no way obvious, but annoying if you know its there
Wants a buff and a slight paint touchup for the few chips here and there.
In pretty good nick, pretty negotiable and would maybe look at trades for a 4wd/something interesting.
Oh yeah and also has a 12inch subwoofer and JVC amp, all boxed currently on the back seat, will be relocated when I get a chance.
_________________
How many bears could Bear Grylls grill if Bear Grylls could grill bears?
Last edited by 93_eb_fairmont on Mon Nov 23, 2009 9:14 pm, edited 2 times in total.