Up for regrettable sale is my beloved 05 Yamaha YZ125.
This has been my pride and joy for the past 3 years however due to a new project and very little use in the past two years it has to go soon!
Purchased off the original owner in October 2009, I rode it frequently for a year mainly on acreage at a farm.
Prior to my purchase the top end was rebuilt (approx July 2009) and I have changed the oil every 5 hours riding time or every 6 months and cleaned the air filter after each ride.
It was sent in to Yamaha late November 2009 to rectify a clutch issue which saw a new friction plate, push lever assembly and push rod fitted.
Its lucky to have been ridden 3 times in the past two years, each time on private property (has not been raced)
I have added the following tasteful modifications:
- Pro taper handle bars
- Factory FX Monster energy graphics
- Factory FX Yamaha fork/swing arm/front/rear fender decals
- Custom numbering purely for looks
- Gold sprocket (Changed when purchased in 2009)
- Newish rear tyre
The only issue I can find is one of the fork seals seems to be worn (leaks a little bit after a ride)
Its been a great bike to learn on over the past three years but unfortunately it now has to go.
I start it every 2 - 4weeks and it starts 4th kick every time!
Will also include various riding gear (helmet/clothing/boots), spare parts and stands if I get the right money.
Contact:
Message between the hours of 8am-4pm weekdays as I may not be able to answer and I will call you back asap.
Weekends I will most likely be free.
Either message or call me on 0409 994 312 or PM me on here.
$3500ono
Make an offer!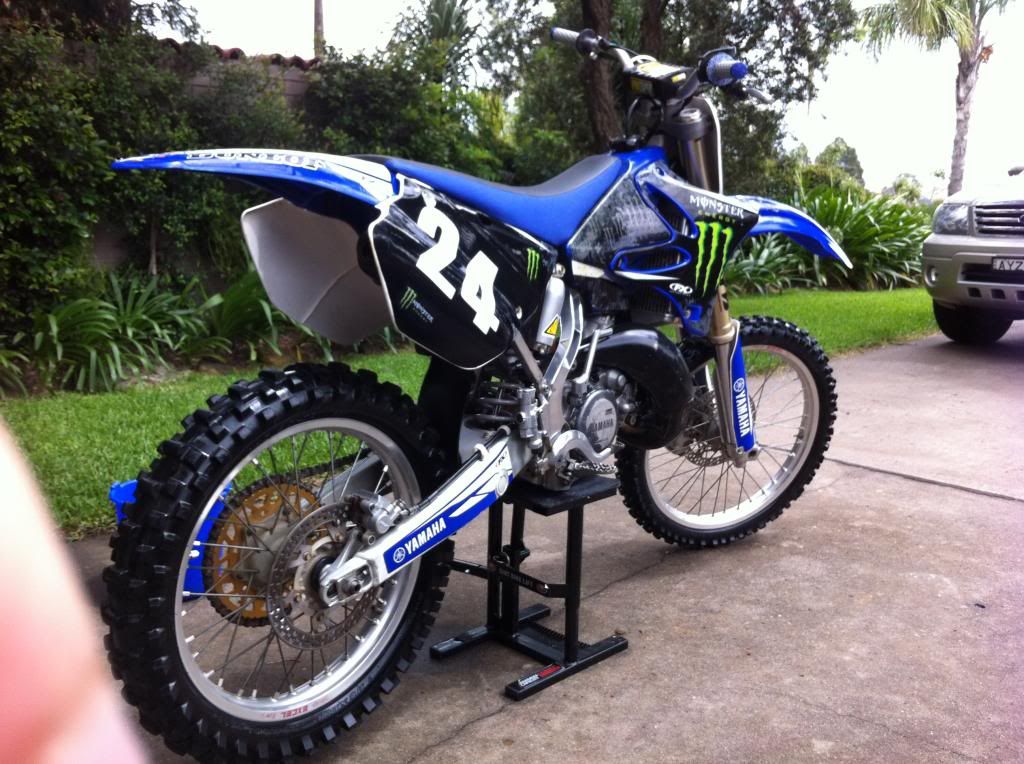 _________________
Weekender: 07 BFII XR6T - Conquer
Retired: 1992 EBII SXR6 - Black Pearl


Last bumped by Lukeee on Mon Jan 14, 2013 9:48 pm.