Hi peeps.
Picking up this little piece of automotive goodness tomorrow.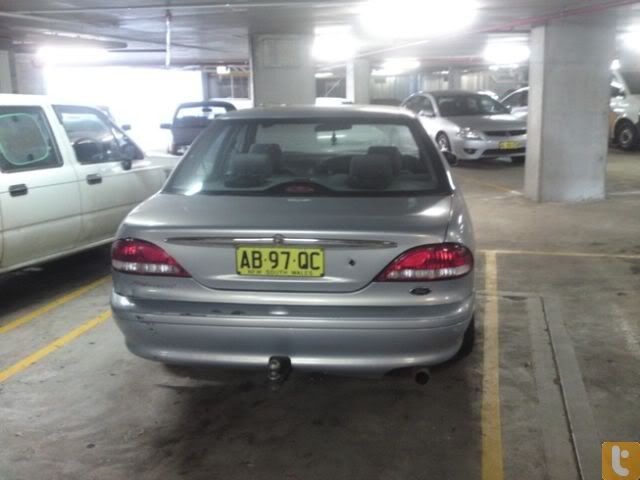 From what i have been able to see so far most stuff looks pretty good. Should be ready to start wrecking it out Sunday afternoon.
Motor has a blown head gasket. Will take it for a quick drive around the block tomorrow night and check to see how the gearbox and diff is.
Has a sports exhaust , towbar and a MP3 headdeck. What the headdeck is is unknown until I pick it up.
The following will NOT be available.
Climate control Gear
Trip Computer
Power Window gear
Door Cards
Bonnet
Here is a few prices Im thinking of
All the gear for a serpentine conversion. SOLD
Diff 3.23 single spinner disc to disc with control arms etc. $100
Taillights and wiring harnesses $40 a pair
Auto gearbox. $95 Sold Pending payment and pickup
Fairmont Seats $95 for front and rear.
Towbar $70
Chrome Boot spear $50
Sports Exhaust(will update details when I know exactly what it is and condition) $125
Smik hoodlining with the fairmont map lights and wiring. $75
EF Radiator which doesnt look that old and thermo fans. $50
Just throwing it out there at the moment to let everyone know its available. Will know more tomorrow night.
Everything is at Penrith NSW 2750. Can bring to Liverpool on a Friday night or am happy to mail/freight at buyers expence.
Any thing else your after let me know and we will see what we can work out.
Cheers Matt
_________________
xr6turnip wrote:
More people paid for a ride in a VT commodore then an AU Falcon so the VT is superior.
Based on that fact my Mum is the best around!
Last edited by Matt_jew on Mon Mar 08, 2010 7:27 pm, edited 2 times in total.