Now that I've put my original motor back in and added a supercharger, this one is up for sale.
Asking $800 ono
Specs:
Ported and polished head
Crescent Motorsport stage 3 cam
Crow double valve springs
Crow vernier cam gear
68mm throttlebody
Compression is around the 10.1:1 mark, but runs fine on 91 with no pinging.
I had this tuned with a J3 chip by CVE performance (not included in sale) and it put down 161.7kw on 91ron.
I then changed the cam timing to suit the manufacturers specs and it lost a little in the top end, but the midrange was boosted, which is what I wanted.
I was going to get it tuned on 98 to see what it could do, but never got round to it due to coming across an opportunity to get a supercharger instead.
It was in no way sluggish in the midrange with the initial cam timing, but I prefer to have more midrange for a daily driver.
I had this in my car for nearly 2 years and it hasn't missed a beat in that time.
The head has had about 20,000km on it and the bottom end is around 250k.
Doesn't chew oil or blow any blue smoke.
Pick up in Officer. have engine crane to load it.
$800 ono.
Picture when I picked it up (extractors not included)
Dyno Sheet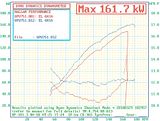 Last bumped by MAD on Mon Nov 07, 2011 9:45 pm.