Thinking about letting it go if I get the right price. here are the details and I am open to reasonable offers via PM only.
here we go:
NISSAN R34 4door Skyline GTT
ENGINE
- Manual Transmission (rare in the 4 door)
- Power steering
- Front mounted Delta Fin intercooler with polished piping
- 3inch turbo back exhaust with Stainless steel Hi-flow cat, front pipe and cannon.
- Apexi AVCR Boost Controller
- Greddy E-Management Blue Piggy-back computer
- Greddy Turbo timer
- Bosch 040 High flow fuel pump
- Traction Control Switch
- Drycell battery
INTERIOR
- Grey and Black Cloth Trim
- Climate control
- Personal steering wheel
- Short shifter
- TRUST gear knob
- Front windscreen glass mounted Pioneer TV antenna
- Dash lights changed from white to blue to match stereo
- Greddy Air/Fuel ratio 60mm gauge
SUSPENSION AND WHEELS
- 20inch Verde Kaos Alloy wheels
- 235/35/20 front tyres
- 265/30/20 rear tyres
- Tein Height and Damper adjustable coilover suspension
- Various other aftermarket suspension components installed with quality japanese parts
- Factory Opioned Strut brace
EXTERIOR
- Hand pumped and rolled rear guards
- Clear side indicators
- Clear front indicators
- Plastic front lip (rare)
- Plastic side skirts
- Plastic rear pods
- Custom Fibreglass Eyelids
- Resprayed Jet black with Candy Apple red glitter in clear coat.
- De-badged body excepted for front 'S' badge
- aftermarket 2 way electric sunroof
- full tinted windows
- Custom Red Angel eyes (like BMW) in headlight
- Aftermarket front driving lights
- Inside adjustable headlight height
- red calipers
- Custom Red walls/stripe on tyres
STEREO\OTHER
- Large in-dash double din screen with TV\DVD\CD\MP3\Radio
- JL 6" front splits
- Pioneer 6" 2-way rear speakers
- Pioneer 12inch Sub in sealed Pioneer box
- Audioline 2 channel AMP
- Hidden radio antenna
- Vision Alarm
Reg till August 2009. Vehicle is currently a promotion car for Auto Indulgence. New owner has the choice of continuing as a promotion car if they wish.
This car is a real head turner without being over the top and has been in various shows and competitions.
Was recently tuned and getting at low boost of 7psi 198rwkws. High boost not set but with fine tuning on the Greddy E-management and about 13-14PSi vehicle can potential put out about 250rwkws plus with current gear just greddy work required.
More pics can be sent for geniune interest only.
As is now: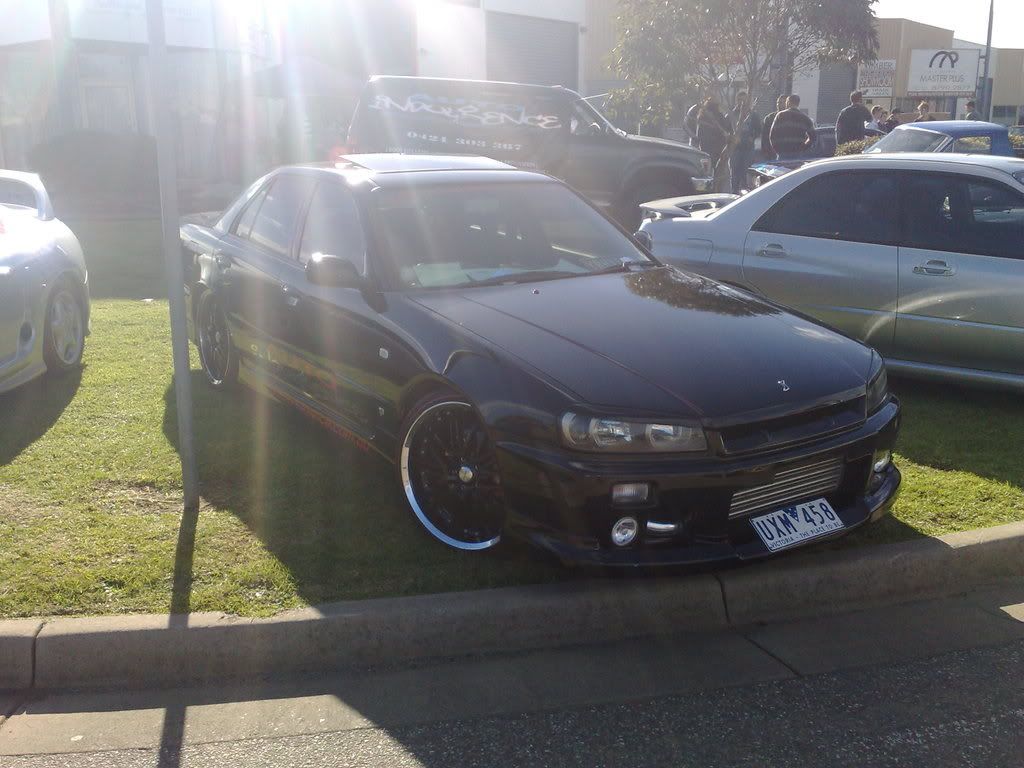 Without sitckers:
Im putting it up for $28,500ono but thats with rwc but very much negotiable if you want to take as is.
Very regretful sale but the car just sits there and gets used maybe 1 to 2 days in a fortnight just to give it a run or for cruises and shows. Also there are alot of little bits and pieces that a jap branded items on the car I havent listed as too many to list.
_________________

Last edited by YBHVE4 on Tue Sep 23, 2008 9:40 am, edited 1 time in total.