Car is now sold.
Item Summary:
1998 Fairlane by Tickford, 73,500kms, 12 months VIC reg, RWC.
Location:
VIC: Melbourne - S.E. Suburbs
Condition:
Used
Reason for Selling:
Have too many cars, so at least one needs to go. Other cars are on carsales, but thought that I would give Fordmodders the first opportunity at this one.
Asking Price:
SOLD
Delivery Methods:
PickUp
Contact Info:
Daniel 0412 952 573 or
daniel@mattronics.com.au
Extra Information:
It has all the usual FBT features including cappachino leather interior with woodgrain inserts.
http://www.fpv.com.au/theheritage/fairl ... kford.aspx
Engine
195kW: Windsor 5-litre V8, OHV, electronic multi-point fuel injection, 9.00:1 compression, GT-40P Explorer heads, roller rockers, special camshaft, upgraded 65mm throttle body and engine management system, electronic ignition, low restriction extractor exhaust system, 195kW @4700rpm, 410Nm @ 3900rpm (net)
Transmission
BTR M97LE, electronic 4 speed auto, GT Adaptive Shift Strategy, T-Bar shift.
Suspension
Front: Independent, upper and lower wishbones with urethane inner bushes, unique coil spring/strut-type dampers, GT camber and castor kit and 28 mm anti-roll bar. Modified spindle to accommodate bigger brakes.
Rear: Live axle, upper and lower longitudinal arms, transverse Watts linkage, unique variable-rate coil springs and dampers, 24 mm anti-roll bar, tuned urethane upper and lower trailing arm bushes, delete self-levelling.
Brakes
Front ventilated 329mm discs, PBR twin piston Cobra calipers, rear solid 299 mm discs. ABS
Wheels
17" x 7.5" Speedline 6-spoke alloy
Problems
Car has a few shopping type marks on it, which were already on it when I bought it, it also has a mark on the bootlid where a bird kindly left some of its droppings and it has marked the paint.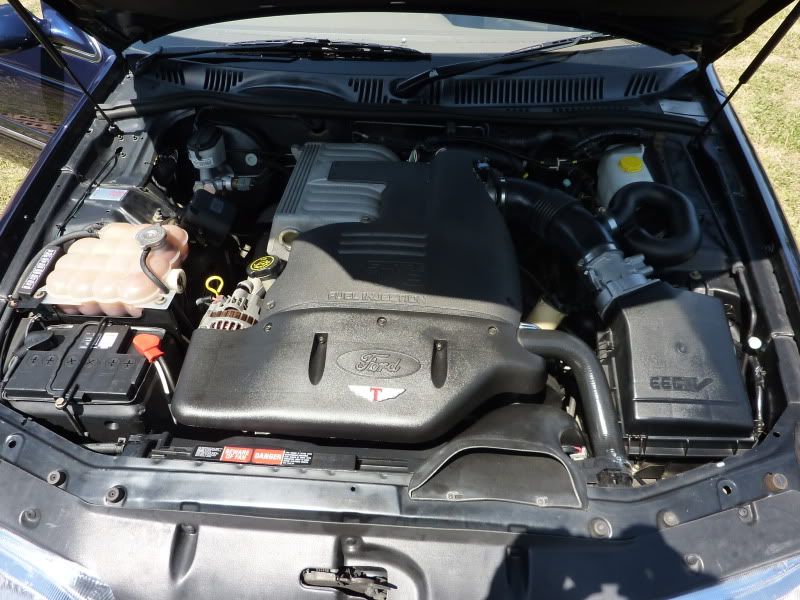 Last edited by mattronics on Fri Feb 05, 2010 4:09 pm, edited 3 times in total.