Make: Ford
Model: Fairmont
Year: 1997
Colour: Regency Red
Engine: 4L six
Transmission: Manual
Body Type: sedan
Odometer: 261k
State: Queensland
Price: 5500
Sadly, bought a work car and so my pride and joy is for sale. Bought in august 2003 with 220k on it, i have put the last 40k on it and have done the following
16in CSA mags, has good yoko 235/50 on the back, will put brand new fronts on it if buyer wants RWC
Nolathane camber/castor kit, radius rod bushes and lower inner control arm bushes
New lower balljoints and tie rod ends
Pacemakers and redback 2.5in exhaust
Slotted rotors all round, Greenstuff front pads, stock rears with DOT4 fluid
King springs lows all round
Koni reds front, Bilstein shocks rear
Whiteline fat front swaybar
reco'd ED T5 fitted 20,000
XR6 3.45 LSD and tickford manual ECU
Ghia chrome door handles and handbrake button (interior is cappuchino velour)
Strengthed mal wood pin kit used during conversion, no pedal box issues
new battery fitted in may this year
gearboot fitted now too.
Has qld rego till jan next year. Needs front windows retinted.
I'll put some old pics up, new ones to come. Front bar will receive a fresh spray before sale
i'll take $4750 as is, no rego, no new tyres and no paint on front bar.
Thanks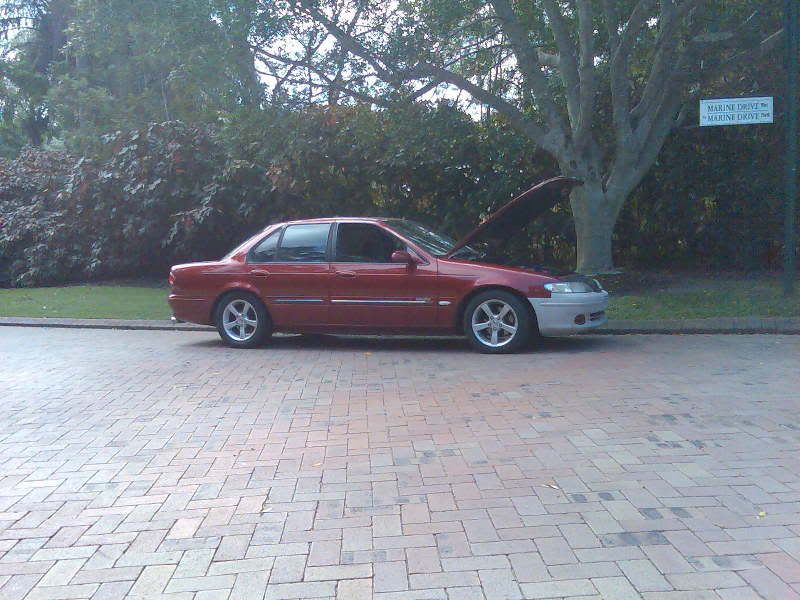 _________________
too many rabbits in china
Last edited by old_mate on Mon Oct 22, 2007 10:07 pm, edited 1 time in total.