Hello
Reduced the price to $3,000, without the racks and pod.
If you want the racks and pod, add another $300.
I've done a few posts on this car, and was going to keep keep it, but have decided on a mini seachange and bought myself a bus to live in!
So, I got this car just over a year ago from a lovely retired couple in Sydney - they owned it since new. It was always regularly serviced by the same workshop - log books available -and had just 124,000km on the clock.
The front bar is factory fitted, as is the auto transmission cooler.
As I bought it to (mostly) drive to the Snowy Mountains for fly fishing, I had gas shocks fitted all round ($1000), plus a rear way bar ($250) for good country handling, plus (more recently) roof racks and a large Rhino Rack roof pod for my gear.
Within the first week of ownership, I had the radiator fluid replaced with new, as well as the the auto transmission fluid, plus had an oil/filter change.
I put on two new rear tyres about 5,000km ago, and at the same time replaced all the engine hoses ($600), just in case. I changed the engine oil/filter every 5,000km, and recently gave it new plugs/lead/coil, plus replaced the radiator fluid and transmission fluid once more as the year was up.
There was a frustrating issue with an occasional missfire, but that's all been cleared up. You can read the horror on the relevant post in the 'Six Cylinder workshop'.
The body is straight, and the paintwork mostly pretty damn good.
As for the cons, there are a few (tiny) dings and scratches in the side due to careless shoppers in supermarket car parks, plus a small tear (20c piece) in the left hand back corner (just under the tailgate), thanks to another unknown careless supermarket driver. It is an easy job to repair, but I have it taped over to protect from the weather.
Also, there is a small leak from the top left hand front – it pools water in the passenger well. I tried fixing it with silicone (as recommended by some forum members), but to no avail - I now keep a small towel under the carpet to absorb any spillage. It seems to depend on what angle the car is parked at. Go figure.
Apart from the few minor niggles I mentioned, it's been a wonderful car, and never thrashed.
I always note my fuel consumption, and it ranges from an excellent 8-9lt/100km on the open road, to 14lt/100km driving around Katoomba in the Blue Mountains (lots of hills!).
Very sad to get rid of this car, but with the bus, I no longer need it.
Oh, I took off the driving lights to fit on the bus, and also took out the stereo and speakers as these were quality items I added and wanted in the bus. I put the standard radio/cassette/speakers back in.
It has 6 months rego.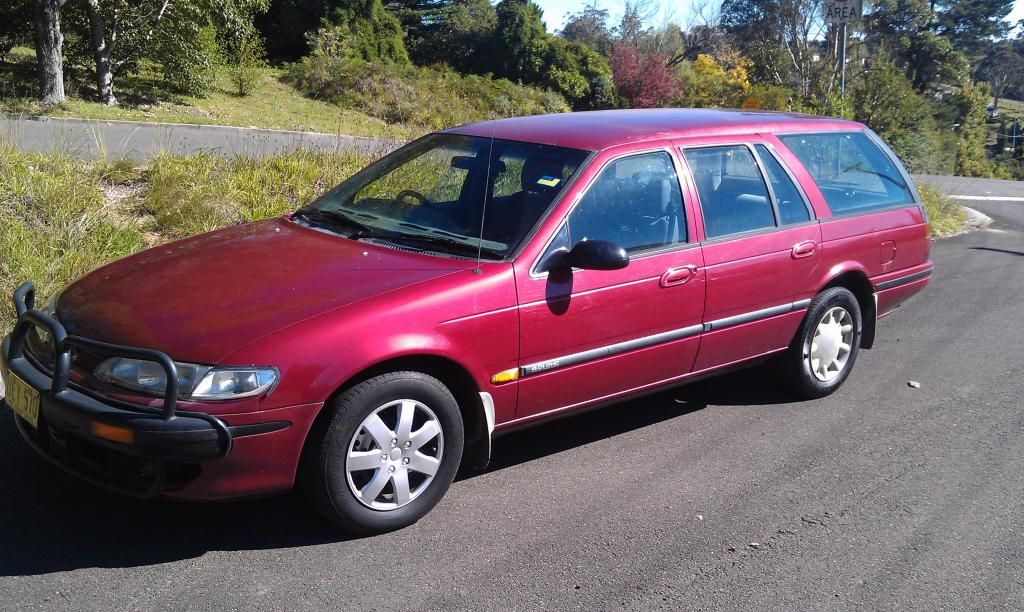 _________________
EF GLi Wagon. Burgundy. Gas shocks. Rear sway bar. Nice stereo & speakers. Factory bull bar. Driving lights. Roof racks. Great car. 2nd owner. 147,000km.