The Car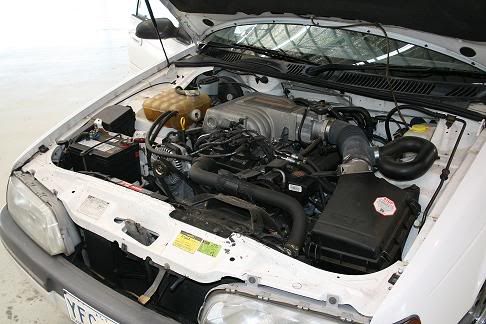 The engine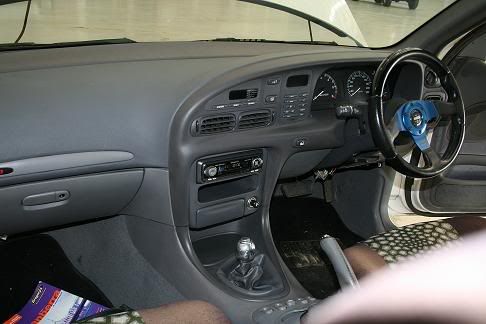 Interior
EL floor cut in place
EL crossmember in place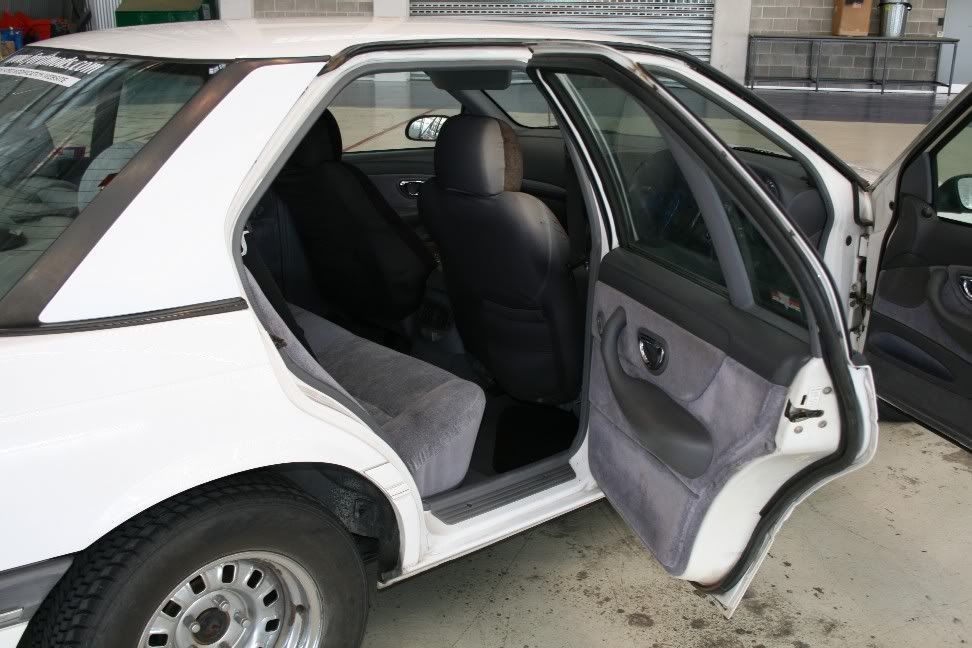 Interior.
Tickford 220kw V8 powered EBII
1993 Ford Falcon EBII GLi.
The engine was removed from a Series 2 TS50 originally owned by John Bowe (signed owners manual and engine cover incl). This engine is one of the rarer hand-built engines fitted with the SVO Y303 alloy heads. Of 46 TS50's built only 8 had these heads fitted.
Work carried out-
Mechanical:
AUII TS50 engine fitted, 5.0L Winsdor V8, (bought at 44,000km and fitted to car with 167,000km on odo). Car has done approx 50,000 in the last 5 years.
AUII TS50 airbox with alloy bellmouth. K&N airfilter.
AUII smartshield, keys, TS50 BEM and TS50 ECU.
EL electric thermofans
EL BTR97LE transmission, (has done approx 180,000km)
EL 3.23 ratio diff (non-LSD)
Pacemaker headers and redback exhaust system all flange joints for easy replacement.
EL front x-member
Interior:
EL XR8 dash, EF XR8 cluster (blue LED).
Momo Race steering wheel.
Tickford alarm included but not fitted.
AUII wiring in dash shell and forward to the bumper, EL Fairmont wiring from the dash back to the back seat and EB wiring from back seat.
EL electric thermofans.
Electric windows on all 4 doors
EL Trip computer,
EL Climate control.
EL Fairmont/Fairmont Ghia Interior (EL falcon floor pan cut in so that handbrake was correctly relocated, and correct EF/EL seats mounts fitted).
Pioneer sound system (head unit, 12 stacker and speakers)
Shortened gearstick with billet knob
EL Chrome door handles
EL Fairmont ghia interior light and centre console rear passenger light
EL column stalks.
Exterior:
Towbar
EL exterior door handles
EL exterior mirrors
AU side indicators
Electric filler cap release.
Suspension and wheels:
EL XR8 suspension all round.
EL ABS.
DBA cross drilled and slotted disc's all round. Brake fluid replaced within last 6 months
Comes with 2 sets of rims, 4x chrome 12 slotter (14x10) and 4x CSA ultra (16x7), all good tyres and spare wheel is the std steel rim.
Other information:
Sold as is, ACT rego ran out on 31 July 2009. 3 months ACT rego will be supplied if requested for an extra cost.
Comes with LOTS AND LOTS of spare parts (EB-AU), including a bonnet and interior trims.
Oils and filters regularly changed.
All the workshop manuals come with the car. (EB/EL/AU).
Receipts (lots of them) available. In excess of $20k spent on this car.
The car passed rego first time in NSW and the ACT, with the only thing to require replacement since 2004 was the alternator (done earlier this year).
The body does require some small tidying up and the front brake disc's skimmed. The only other fault is typically the headlining is starting to sag.
Although the car was built for comfort, it does handle beautifully and goes well , and it does 750km (motorway) on a tank.
For more photographs please message me and provide an email address I can send them to.
Any questions please call 0422087161
Sale options:
1. $6500 complete,
2. $1500 ono minus engine and ancillaries, selector, and steering wheel (original steering wheel and selector refitted).
If the car does not sell in 7 days as complete item, the engine and ancilliaries will be exported and I will sell the rest off as parts.
_________________
The car should be called "Frankenstien". EBII GLi skeleton, AU T2 220kw heart, AU2 brain, EF/EL for everything else.

"Bitza" Member 28 on FORDMODS v1.0 Joined 28-04-2002
"TS50EB" Member 300 on FORDMODS v1.1 Rejoined 6-11-2004