The time has come to sell my pride and joy. It's time to upgrade. Had the EB since 2/2008. It has gone through alot of changes.
Over the 1/4 mile it ran 14.76 with gas mixer removed (takes 5mins) and it pulled 139.9rwkw on the dyno (with gas mixer removed).
I usually just used the gas when going to and from work and long trips due to it being so cheap. $40 of gas got me 650kms going to and from Mt.Gambier at Easter.
I'll be very sad to see this car go. I have maticulously looked after this car as i am a qualified mechanic by trade. Service every 5000kms with a genuine Motorcraft filter and good quality oil. And coolant changed every 12 months.
Every coolant hose has been changed. All water gallery welsh plugs. Front and rear main seal. Harmonic balancer. Alternator rebuilt.
vehicle has just had headgasket replaced with AU MLS gasket and AU head studs. And under gone a serpentine drivebelt conversion. Also gas converter has been replaced with a new genuine Impco unit. Also rolling on genuine 17x8.5" EB GT wheels
Info:
Tickford 4L motor
Wade 1636 cam
Hitech headers
Hi flow barrel style catalytic converter
2.5" mandrel bent exhaust
K&N panel filter in modified airbox
T5 manual
Ripshifter
Rebuilt 3.89 LSD (done 5 months ago at ATS Automatics)
lowered on Superlows
Rear has shortened shocks
17x8" AU Tickford copies painted in charcoal (good tyres)
Tinted windows (darkest legal on wind down windows, 20% on rear 1/4 windows and rear windscreen)
ED XR front end (nosecone, lights etc. Wired in so all four headlights come on when high beams activated. not two)
ED XR Sprint front lower skirt
Dual fuel (gas tank has 7 years on it, good impco system)
Bad points:
Slight tear in outer bolster on drivers side Recaro
Hoodlining sagging on passengers side. Material in good condition though
Needs a J3 chip or decent tune. It runs a bit rich on petrol and won't idle on either fuels when cold. Also due to it running the standard computer i had to disconnect the idle speed controller and set the idle manually to stop rev hang. J3 or tune will fix issues and if AFR fixed will increase power.
I'm chasing $4000 without a roady but with rego til June. No stereo apart from the amp wiring kit and a Pioneer DEH5950iB head deck
$4650 with the stereo. Stereo includes 2 week old Pioneer DEH8350SD, Hertz 6.5" front splits, rear coaxial, OA 5 channel amp and US audio sub. Sub pulled 131.5dB with the gas tank.
Or $5200 with Rego til June. Current Victorian Roadworthy. Full stereo. And the WILDEB plates. If not the car will come with standard issue plates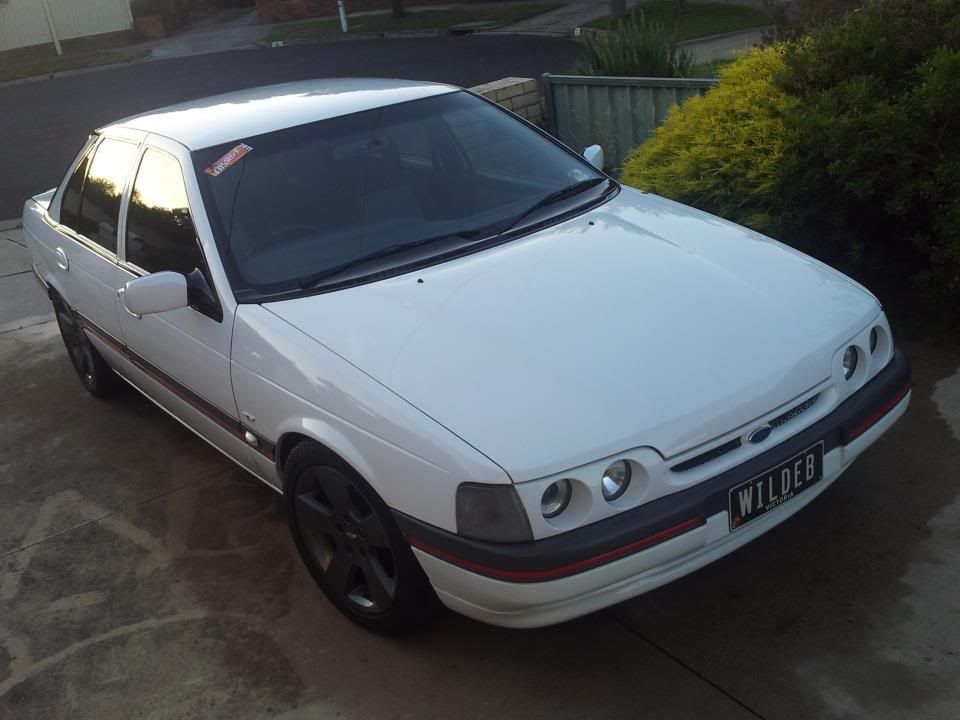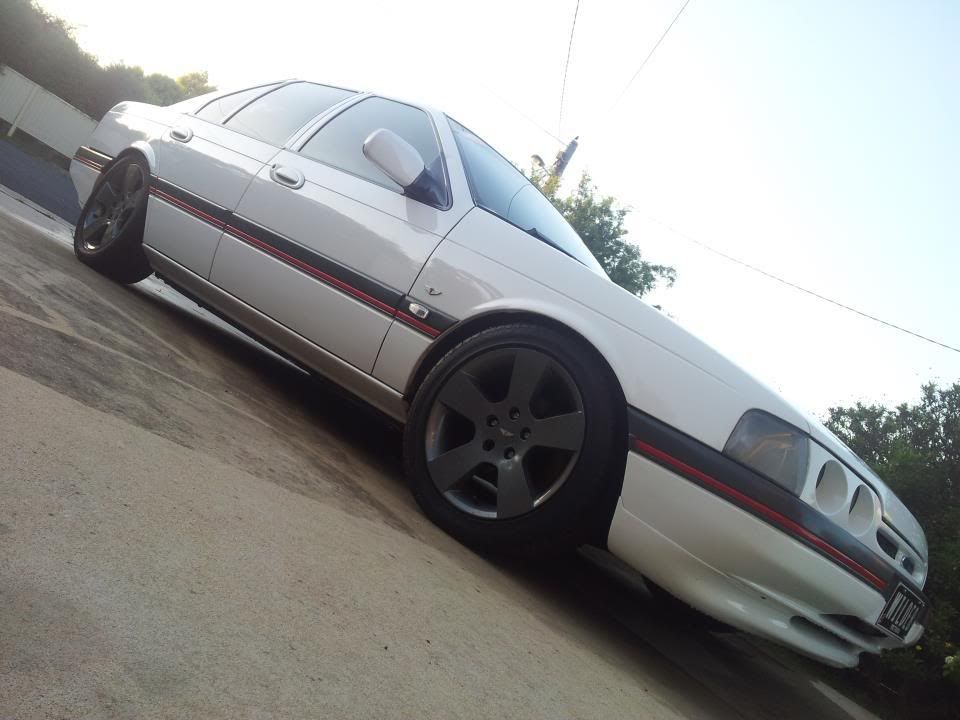 _________________
Daily driver: AU2. 5 speed. 19" FG luxos. Full exhaust. Lowered. AU3 XR leather interior, converted to full power windows. 3.45 LSD. IN THE FUTURE: Tickford 6
Weekend driver: EA SVO AU motor. Built BTR. TCE 2800 stall. T76 turbo. Locked diff. On E85. approx 320rwkw. 11.5 @121mph


Last bumped by 89.SVO on Thu Mar 22, 2012 7:43 am.