i am happy to finally get my car goin, but have been pullinh my hair out for the last week, with a problem of it making too much boost...
i can imagine most people thinking so what, more bost the better...
but i want to run 7-8psi for low boost, and 15psi for high boost. problem is, everything in my setup likes to flow REALLY well, too well infact, especially the cam, thats one of the biggest problems i think, its designed to create heaps of exhaust gas to give max spoolup, and therefore, i have a major excess of exhaust gas to get rid off, to allow me to run 8lb
i started with a single 1.25in wastegate outlet off the inside of the collector, that really did nothing for being able to lower my boost, i was making 12lb at 2200rpm, with a 7psi wastegate spring. so i thought, maybe i need two outlets, to help the gas escape the collector, so i removed the manifold, welded in a second outlet, still didnt put a dent in my boost problem, so we thought, perhaps the wastegate is too small (48mm turbosmart) so we removed the wastegate completely and took it for a thrash, still made 14lb at 4500rpm with no gate attached!!!!
so then i was thinking, F**k, how bout we go all-out, and fit two 1.5in outlets on the collector... so we did, tonight i drove it again, still made 13psi at 4600rpm with wastegate completely open....
F**k me, how much gas do i need to vent to get my boost down??? im going to have to remove the gate and drive it with it blowing out the outlet pictured, that will tell me if i need to upgrade to the 50mm wastegate, or whether i still need to have more out the collector.... maybe i need two gates, with their own outlet.
oh well, if i cant get it any lower, ill just have to have a 15lb low boost.... OR upgrade to a gt42r turbo, cos atm i have the 1.06ex housing on a gt35r
so much for my nice pretty, ceramic coated manifold, its become a big r&d item
cheers, brad
this is the latest version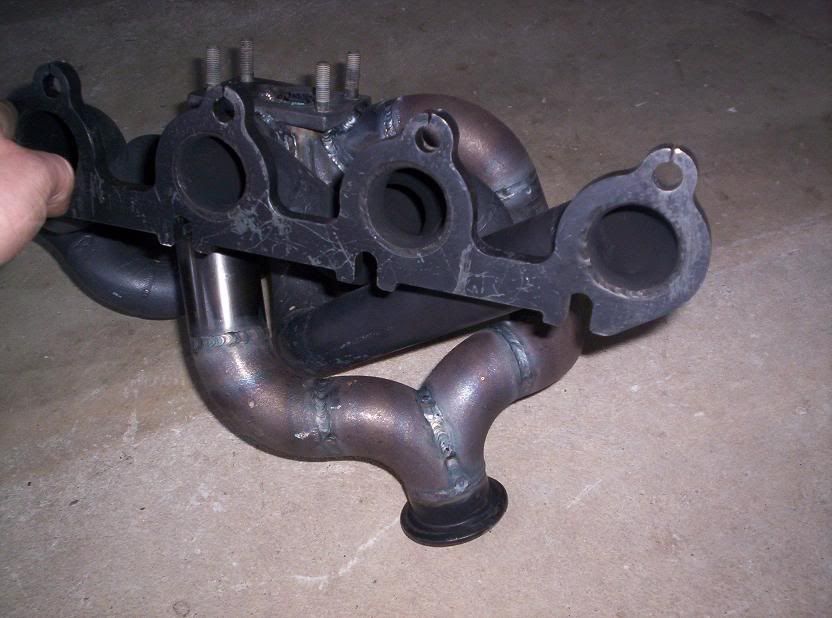 _________________
EB 4L, 8.4:1, R154, GT4202r, 4in exhaust, Greenslade Engineering exhaust manifold, plenum chamber, 90mm throttle, Garrett W2A cooler, Surecam custom, autronic SM4, Bosch 120lb, Crane HI-6, LX-92, LM-1, Turbosmart Reg, 2x bosch 044, turbosmart 48 gate. 470kw+ @ 18PSI