thanx guys, my mate still hasn't had the time to go over the beast.
But after spending over $2G at the mechanics, changing coils, plugs etc the car still remains quite disapointing, although we did get some increases after fitting a bigger intercooler, cold air system and tuned 3'' zorst.
Maybe we were expecting 2 much, but it was not even in the same league when compared with my XR8, even before the blower was brought into the equation?
Who in sydney would be the best to take it to? before it catches on fire out in the bush somewhere he asks.
cheers kenny
_________________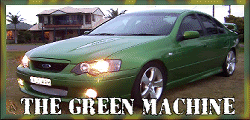 IF YOU HAVE IT UNDER CONTROL
YOU SIMPLY DON'T HAVE ENOUGH POWER!!!
Detroit 8V71 for sale, taking offers