Ok, here is the situation.
Took off the intake pipe and dummied the core in possible locations. But its not as promising as it looks.
At first I tried it above the BBM, but as you can see on the side profile picture, it sticks up far too high.
Next was sitting it over the rocker cover, it looks like it may clear the bonnet, but with the bonnet closed, it didnt close properly.
Which left me 1 only other choice, I sat it on top of the heat shield and with some flexi pipe I had lying around, just formed it into position of how the pipe work should look.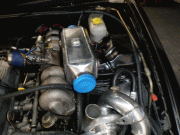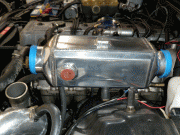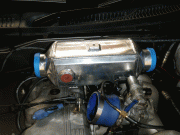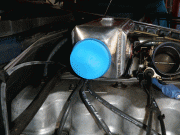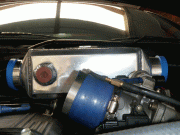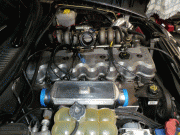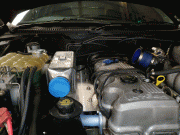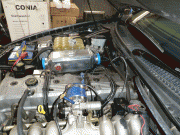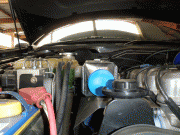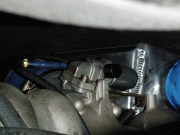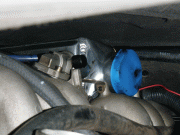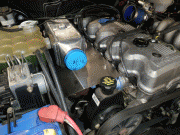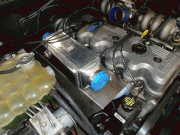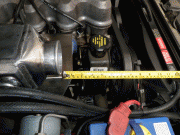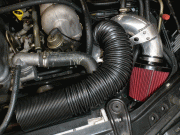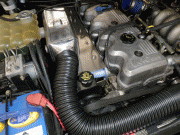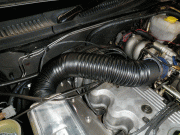 Free Image Hosting by ImageBam.com
I think over the heat shield is the only position with this sized core.
The pipework will be 2.5" from the supercharger then a 2.5"-3" silicone reducer to the core, another 2.5"-3" silicone reducer to 2.5" pipe work to the TB.
I hope most with a Raptor V superchager realise that the outlet is 2.5" in diameter and they could effectively go the thinner 2.5" inlet/outlet Type 20 core which has a 4" body instead of the Type 19 core that I have which as a 5" body.
I think in heinz sight, the 4" body could fit above the rocker cover as a possibility, but that core is 2-3" longer.
I'll have to make up a rod/bracket of some kind to take the weight of the core itself once water goes thru it. It will get heavy, so, I'll have to get one bent to shape and connect it from the bolt that holds the header tank to one of the rocker cover bolts. That should hold the core into position.
Whats peoples thoughts so far?
I know you've already sent it off but for future reference someone could try modifying the bonnet hinges or adjusting the bonnet to sit up a couple cm's at the back. It would probably give just enough clearance to mount the core against the firewall. An added benefit is the gap provides a vent for hot air to escape.