Nah, she wont be ready for bout a month
when I took it off the road I had a few plans, but it has turned into a full ground up rebuild.
So far the suspension has been done, detroit lok diff fitted along with a dampened brass button clutch and the box has been setup to handle more.
Engine has been blueprinted and cnc ported heads fitted along with many (all) other bits replaced
I am just on the last few coats on the exterior and fitting the new body kit.
Its been a big job, but will be worth it!
_________________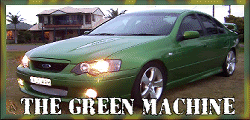 IF YOU HAVE IT UNDER CONTROL
YOU SIMPLY DON'T HAVE ENOUGH POWER!!!
Detroit 8V71 for sale, taking offers