I have learned more about this G-Tech, and yes it is an extremely accurate way of measuring "true" performance
these tolerances are all +/-
0-60mph- 0.1 sec
60-0 braking distance- 2 feet
1/4 mile E.T. - 0.1 sec
1/4 mile speed- 1mph
horsepower -3hp
instant G force- .002G
cont. G force- .002G
NOTE all of these figures are only accurate if you are on level ground, for example if you ran the 1/4 up hill it will simulate more G's ,therefore more power/quicker E.T. Try going down hill and you will change the horizontal levels meaning you will have to basicly lift the wheels off the ground to get results as it measures from level ground.
I have also found a way to get close HP figures from a wild engine that doesn't like traction.
Just take off easy in 1st enough to get the unit started, short shift 2nd and take it easy as spinning the wheels will f**k the figures ,wait till you are about 4000rpm in 2nd or 3rd (depending how much it takes to not beak traction) ,then hammer it. it does take a few practices but you will work out when it all gets to the ground.
aero drag will rob you a bit, but lets face it ,it is what the car does when doing a run so
"BE SURE YOU TEST ON LEVEL GROUND!"
PS I got the falc down to 14.9 after a bit of playing round! still pretty s**t hey
_________________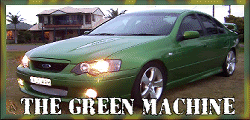 IF YOU HAVE IT UNDER CONTROL
YOU SIMPLY DON'T HAVE ENOUGH POWER!!!
Detroit 8V71 for sale, taking offers