hey there, I use 4V closed chamber heads on my clevo, but have also had experience with 4V's & lpg= they don't mix as gas requires more vacuum than petrol to supply a correct mixture at lower rpm & "usually" by the time there is enough suction, the mixer is at its peak cfm.
An option for keeping the beasts is to use those inlet/exhaust tongues advertised in the mags. My engine was a complete dog under 3500rpm but never dropped off until 8000rpm (big cam, nascar block etc)
What inlet manifold do you use? I found lpg to work realy well with a single plane+ 2'' spacer. The phase3 cam also works quite well with gas.
_________________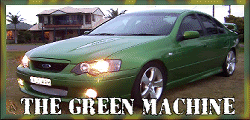 IF YOU HAVE IT UNDER CONTROL
YOU SIMPLY DON'T HAVE ENOUGH POWER!!!
Detroit 8V71 for sale, taking offers