[quote="XR9UTE"]'69 Boss 302 had 2.25" intake valves.
'70 Boss 302 changed to 2.19" in an effort to unshroud them from the chamber edge/cylinder wall.
As for the 4 meaning 4V unfortunately it does and it doesn't. Many 4 barrel 351's from XB up had the 4 cast into the corner but were in fact the 2V open chamber head which was used on all 351's from XB up.
The only real way to tell is by the size of the ports themselves or if you have them off the engine the valves will be 2.19/1.71 as apposed to 2.04/1.65 on the 2V heads....of course that assumes they are untouched because many 2V heads have had 4V valves fitted over the years. In that case port dimensions will do it for you.
I can vouch for the CHI 3V 185's. They helped push my heavy ute(3765lbs) into the high 12's in full street trim with very non-drag friendly 17" tyres and less than 5800rpm! I believe my EFI converted 2V offy port-o-sonic carb intake also didn't help the flow of these high ported CHI heads.
"Stage 1" is like a "1/4 race cam"...3/4 of it is missing!
you can tell by removing a rocker cover, 2V heads have large cast holes where the pushrods go into the valley, 4V have small drilled holes aprox 1/2'' due to the inlet ports size, the Aussie 4V had a dot cast next to the 4 near the rocker cover where USA 4V's did not.
I don't doubt the potential of 3V alloy's, but preferance lays with yates still.
_________________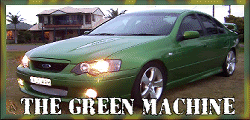 IF YOU HAVE IT UNDER CONTROL
YOU SIMPLY DON'T HAVE ENOUGH POWER!!!
Detroit 8V71 for sale, taking offers