O.K look at the engine #
and total amount spent on enhancments ,will be $2000 inc' exhaust, mid 13 sec all day, with good drivability?
40 years newer technology than the old windsor. its time to move on, these are the future of ford V8 engines, and with the newer model getting some variable timed camshafts, even bigger power will be achivable from simple bolt on components that are cheap and readily available.
I have seen a GT on the rollers with a completely stock unopened engine produce 468rwkw with a vortech bolted on, show me a windsor that can do that?
Attachments:
fpv xr8.jpg [ 25.74 KiB | Viewed 40 times ]
_________________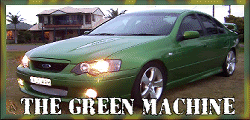 IF YOU HAVE IT UNDER CONTROL
YOU SIMPLY DON'T HAVE ENOUGH POWER!!!
Detroit 8V71 for sale, taking offers