if you have tuned using a flasher, try fitting a set of NGK TR6 plugs with a .036-.040 gap. Iridium plugs have a lot of resistance & the factory coils aren't that strong, it doesn't work in every case, but for $35 a set it worth a try.
The factory BOSS 260 has only got a 70mm throttle body, which will breath OK, but an 82mm does improve WOT power, you just have to use less throttle at low rpm as it reduces torque, another quik gain is the to reduce the engine temp a little (I am running about 78deg). I found another gain when I used FUCHS 10-40 oil, don't be tempted to use 10-30 as it is too thin for this motor, and you will use too much oil. I have a custom cold air intake which was cheap power, alloy flywheel will improve responce as will under drive pulleys, I am running 42lb injectors for a future plan.
there are other little tricks that cost almost nothing, but you should do before/after readings one at a time, as its easy to go backwards.
hope you benefit from this cheers kenny
_________________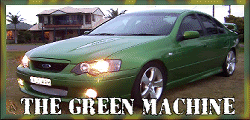 IF YOU HAVE IT UNDER CONTROL
YOU SIMPLY DON'T HAVE ENOUGH POWER!!!
Detroit 8V71 for sale, taking offers