EL XR8 wrote:
Yeah Ford use a European way of figuring out power.
I would still bet the Boss 290 would be pushing out 220rwkw stock
With those mods, he would more than likely get 270rwkw.
most, if not all aussie built cars kw's are measured at the flywheel, BUT when holden do they're measurements they don't have air filters, belt driven auxileries connected, and also use the higher average figures, not the average.
Ford used to give at the wheels figures on the "special" GT falcons like the HO 3 etc, which actually had 380-90hp at the flywheel depending if it was a hand built "blueprinted" engine
The BA XR8 has between 208-215rwkw
and the GT has another 20rwkw
_________________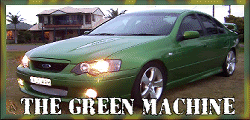 IF YOU HAVE IT UNDER CONTROL
YOU SIMPLY DON'T HAVE ENOUGH POWER!!!
Detroit 8V71 for sale, taking offers