I am in the process of fitting a street/strip 11" F100 clutch & pressure plate as I started to slip the second clutch that has been fitted (XR6 turbo this time). So far they have the same spline & bolt patern as the stock unit, but almost double the clamping force, Ive just gotta play around with a few different thrust race setups to find the optimum part.
So when Ive won, I'll post the partlist required, as I believe that it will only cost around $600 , compared to $2200 for an equivalent package to suit.
Oh as for where I got my info, is from ford, this is what they quoted.
"Heads
Twin overhead camshafts per bank with four valves per cylinder to produce a deep-breathing, high-performance engine for exciting and consistent power and torque delivery right up to the red line.
The heads are cast in aluminium alloy to minimise weight and to reach the optimum operating temperature faster. They feature an improved Cobra R design with a straighter, better-breathing inlet port."
_________________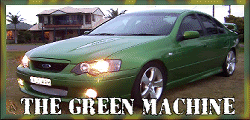 IF YOU HAVE IT UNDER CONTROL
YOU SIMPLY DON'T HAVE ENOUGH POWER!!!
Detroit 8V71 for sale, taking offers