Hey guys long time no chat, for the last 6 months I have been customising my XR8 to be as strong yet reliable as possible.
So far I have fitted a detroit locker, BF GT-P front & rear bars, a dampened brass button clutch, 2pac engine re-spray, match ported inlet, & is currently in the process of a 2pac re-spray and custom intercooler
But finally got that new "alternator"! as far a the mrs knows anyway.
It is a vortech V1 Trim, which runs in the same direction as the engine, thus requiring a specific bracket kit.
Has anyone got access to offset and dimension specs or even a spare bracket layin around? cos I ain't payin CAPA what they are askin
cheers guys, will be seein ya's on the road soon kenny
Attachments:
File comment: I couldnt help myself!
Super! charger.jpg [ 36.48 KiB | Viewed 67 times ]
_________________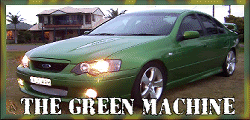 IF YOU HAVE IT UNDER CONTROL
YOU SIMPLY DON'T HAVE ENOUGH POWER!!!
Detroit 8V71 for sale, taking offers