351EL wrote:
revhead wrote:
As I said earlier my 302 woked well with the thermoquad. I know that there is a lot of die hard holly fannatics out there but I tried the holleys up to 750cfm. they didn't do crap. I found that the best carb for my engine was the 850cfm thermoquad. Fuel econnomy was good and the zorst had a nice grey tinge at the tail pipes not the over fueled black colour with power that I was told I could not acheve. If I was to build another x series ford I would do the same again.
I hear ya mate. Do you know of anyone who knows how to rebuild a thermoquad? I got sucked into the holley bandwagon. I took off a well tuned thermoquad and put on a holley.
but.... do you know anyone that realy knows how to set up a holley properly,
I used to HATE the bloody things till I learned about the many things that need to be adjusted to suit each individual motor, 99.9% of tuners build em to factory spec, IE jets power valve & discharge nozzle etc,
when built to this ,it is just a compromise of power & economy as they had to have some sort of jetting/valve setup when new.
the most common mistake people make is to leave em as is, these carby's were designed for leaded fuel with RON of around 89, if you use premium unleaded the octane is 95-98 RON meaning you are already 8-10% too rich not to mention the 5% oversize jetting from the factory as a safeguard
this is just a tiny bit of setting one up properly, but whatever you feel is the best choice is totally you're decision and thermoquads were setup from the factory for these motors, parts arent as readily available though
cheers, kenny
_________________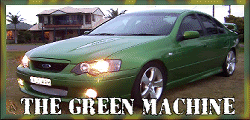 IF YOU HAVE IT UNDER CONTROL
YOU SIMPLY DON'T HAVE ENOUGH POWER!!!
Detroit 8V71 for sale, taking offers