I have found my EL XR8 to be an embarrasment off the line even with the few mods I have and a 3.45lsd ,I find the thing accelerates quicker if I dont use full throttle off the mark & using the box manually.
hold the brake with left foot, watch the other direction of lights (knowing you're turn is next otherwise it can be embarrasing) have you're RPM (right foot of course) at around 1100, now its you're turn hit the throttle to about 3/4 and let the brake off when RPM hits around 2500, at 3000 fully open the throttle and shift into second, keeping throttle full, then into D (try this in both power & economy settings as I find econ to give me the best change, but mine is an ex cop so the shift is much higher than factory, 5100 in econ & 5500 in power which is into the dropoff too much
I believe the trickflow stage 1 cam is the best for the 5.0l that doesn't have too many mods.
I have seen it produce 208kw (280hp) at the treads with AFR 165's ,trickflow street intake and a 75mm throttle body, with 19LB injectors. but not without a set of pacemakers of course!
but even the easy way out by stroking it the heads need work as 310hp is about the limit .
_________________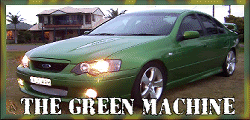 IF YOU HAVE IT UNDER CONTROL
YOU SIMPLY DON'T HAVE ENOUGH POWER!!!
Detroit 8V71 for sale, taking offers