steiphen wrote:
well, we droped the box out..... i read a fmx book with my mate ken, who i meet on this site.... he figured out it was the low pressure pump, which is bolted in the bell housing...,,, The large cog was cracked!!!!! not sure how, but it has something to do with me forceing the bell housing bolts in because it wasnt lined up properly!!! so next time a dowel wont line up... dont force it!!!!
thanks for ya s help!!!
A lesson for all ,when installing an auto box ALWAYS install the pair in one shot ,not seperatly it may be heavier but it works.
hows it looking Steve? you should have worn out those 255's by now!
_________________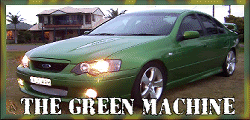 IF YOU HAVE IT UNDER CONTROL
YOU SIMPLY DON'T HAVE ENOUGH POWER!!!
Detroit 8V71 for sale, taking offers