orloxsis wrote:
Jeez, this is getting expensive isnt it!!.. Ive had alot of expences at the moment... insurance cost me $2,452 for Full comp... there is a problem with the steering, where the universal joint is loose, to replace that, u need to replace the whole shaft, which cists $270 inc labour... and i wanna chuck the 16" Tickford wheels onto it... anyone wanna donate any? its for a good cause!...

But before all that, i gota get the Gearbox fixed/replaced, the steering is fine untill i can afford it... but if anything goes wrong with the running gear... i HAVE to get it fixed..

Its not real urgent... but i cant stand driving my old '88 Telstar TX5... its just got no balls!...
it just gets worse, first you will be happy with the power , then you will get used to it ,and have to make it better, again and again & again, and from the age of some of the blokes I still see under their bonnets every weekend, you do not grow out of this.
_________________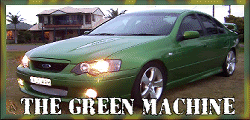 IF YOU HAVE IT UNDER CONTROL
YOU SIMPLY DON'T HAVE ENOUGH POWER!!!
Detroit 8V71 for sale, taking offers