Haha, funny you say that.
Im running a full twin 2 1/4" mandrel bent s/steel system on my ute with two Hooker Aerochamber mufflers and no resonators etc.
IMO, and many others, it sounds awesome. Very distinct note, yet very quiet while cruising, but once you put the boot into it it really opens up.
If you want to make abit more noise i'd suggest 2 1/2" pipes with Hooker Mufflers.
Heres a sound clip of it making some noise on the dyno.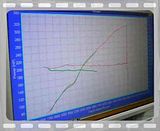 Jeff
_________________
STREETBUILT RACING
1999 XHII Falcon XR8 Ute 5.0L, TKO600 5spd, KB 2.1L Blower, 6.5psi, 12.2@113mph!!