how big d'ya wanna go?
the main probs with going oversize with these are
Does the engine need it? otherwise you will over "carburate" the engine, causing a boggier jump off the line as the size of the the TB reduces velocity thru the MAFS causing the engine to be a bit flat to get going, mind you this is a bigger problem in auto's than manuals.
but size overall, the explorer will handle 75mm if opened up to suit, just don't go too smooth with the ported finnish as this reduces turbulance into the heads causing poorly mixed air/fuel.
You will always see articles in mags about the higher power figures associated with these upgrades, but rarely you see the dyno report showing the reduced torque down low in the revs
NASCARS used to be limmited to a 2 barrel 500cfm holley, look at the power they produced well over 550hp.
65mm TB flows around 420cfm
the main reason I typed this is , I have done these mods myself and had minimal gains, the $ could be spent on better mods with bigger gains.
a cam change will cost around the same, and will give better results.
Have you changed the intake manifold, as I noticed in you're pics you had a HO at the time?
_________________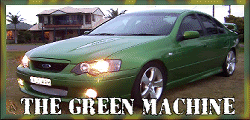 IF YOU HAVE IT UNDER CONTROL
YOU SIMPLY DON'T HAVE ENOUGH POWER!!!
Detroit 8V71 for sale, taking offers
Last edited by kenny on Sun May 15, 2005 3:38 am, edited 1 time in total.