Bassfreak55 wrote:
XR8Chic wrote:
The MAF is the silver part that will connect up to your airbox, just take it off, and have a look inside to see if there is anything on the wires.

If you have a K&N filter, sometimes if there is too much oil on them, it will coat the wires in the MAF so they dont read properly.

Easiest way to test is to put a known working MAF, and see how it goes.
Yeah i might take it off a have a good look at it tomorrow, give it a bit of a cleanout.. Is there anything you can spray inside it to clean it? Or just wipe it clean with a rag?
It's been doing it for the past 2 to 3 months now and is starting to get worse.
My el xr8 was the same until I cleaned out the mafs, but it still had a noticeable difference in hot/cold weather
if you can take the sensor off the housing, I found one of those $2 screwdriver sets with the torque head ,as it was a cheapy it wasn't hardened real well so I could drill out the centre.
WD 40 is pretty good to clean the sensor, just be sure to clean it off when done.
Another thing I tried & had great success (lots of people will disagree with this mod, just wait & see!
) is to put a resistor loop in the place of the Intake Air Temprature Sensor (IATS) this ''fools'' the ECU into thinking the air temprature is 0 degrees C, you do the maths the colder the air ,the denser, the denser the higher the amount of O2, the more O2 the more fuel required to meet the stoichiometric default in the ECU ,allowing the engine to run just a little richer, 14.2:1. depending on the voltage allowed back to the ECU. This also allows the timing to advance quicker than the factory preset (regraphing the timing curve)
I believe that I have gained around 10-15hp but there's no dyno proof ,only rooted rear tyres, so try it if you dare ,I didn't regret it!!!
I can give you the colour code of the resistor if you want it?
_________________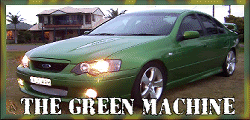 IF YOU HAVE IT UNDER CONTROL
YOU SIMPLY DON'T HAVE ENOUGH POWER!!!
Detroit 8V71 for sale, taking offers