Stevo wrote:
Hey Kenny, thanks for your reply.
What other mods have you done ?

Steve
custom crow cam, heavily (& I mean HEAVILY) ported heads ,manifold also including even welding for more thickness on the walls! 1.72 roller rockers ,stud girdles, ballanced bottom end, 75mm mafs, 65m throttle body for daily driving 82mm for playing with 4 cylinders on friday nights!, tricked computer,custom 3 1/8'' tuned exhaust, and lots of other goodies.
the list has set me back $3G to date ,but I know some good people in the buisness otherwise probably $5G more realistic
Just stroke it , its cheaper!
cheers Kenny
_________________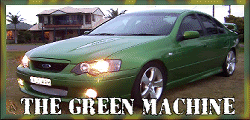 IF YOU HAVE IT UNDER CONTROL
YOU SIMPLY DON'T HAVE ENOUGH POWER!!!
Detroit 8V71 for sale, taking offers