66 coupe wrote:
kenny,

Unfortunately, thats the problems you will face with a holley, and idling at 1000rpm. There is no way you can do the idle mixtures at 1000rpm because you will find the butterfly's in the carby are open that much that your running on the transition circuit.

Also double check your ignition system, make sure coil voltage drops off completely when the key is turned off, sometimes if your running an MSD or the ignition off a relay it will run on due to the alternator.

What you need to do, is play with your distributor, limit the amount of centrifugal advance to 16 or 19 degres if you can (real easy to do on msd dizzy's) and then set your base timing to around 16 degrees (you need to aim for around 34 degrees total timing)

Next, back off your idle screw all the way and then wind it in until the butterflys are only just open, and have someone start the engine while you are at the carby trying to help it idle.

Get it idling at around 700 or so rpm, even if its lopey, but keep track of how far you need to screw the idle stop screw in. If its more than a couple of turns you may need to drill your butterflys (start with a 1/8 hole)

Once its idling on its own, then do your idle mixtures, basically 2 ways you can do it, one is with a vacuum gauge, or the other is by ear. There is heaps on info on the net and on the holley site on how to do this.

Start off with them all the way in, and out 1.5 turns, and work from there. Remeber to adjust them evenly.

You'll find the increased static timing will fix the idle lope and you can leave it idle between 700-900 rpm.
I have actually used the secondaries as a part of the idle circuit as I have experienced idle probs b4 with my last engine, so the primary idle transfer slots are only exposed by.050''
The cam is a bit extreme for an idle much less than 1000 as it has a duration of 250-260 deg @ .050'' with lifts of .596'' & .622''
I do have 2 sets of butterflies pre drilled from my last build one 1/8 & 1 at 1/4'' but I was hoping to not need to use em'
also vacuum is nearly non existant!
Have you got the same book as me, HOLLEY Rebuilding & modifiying ,an SA publication? great read if you don't
_________________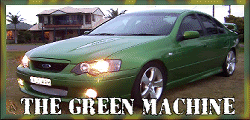 IF YOU HAVE IT UNDER CONTROL
YOU SIMPLY DON'T HAVE ENOUGH POWER!!!
Detroit 8V71 for sale, taking offers