I don't know if it will work for you, but with my last car an EL XR8 ex-police, I found by accident that when I pushed the trip meter reset buton for up to 3 minutes (sometimes less?) that I could calibrate the speedo up to 16% either way.
It worked on a mates EF fairmont V8 also.
To calibrate properly it is wise to use a dyno, as by just relying on tooth #'s isn't that accurate.
hope it works for ya, kenny
_________________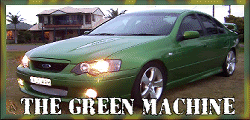 IF YOU HAVE IT UNDER CONTROL
YOU SIMPLY DON'T HAVE ENOUGH POWER!!!
Detroit 8V71 for sale, taking offers