gunit18 wrote:
But i would still need to strengthen the bottom end yes? id be looking at a few grand for that plus a vortech blower.
http://cgi.ebay.com.au/NEAR-NEW-EATON-M ... dZViewItem
would this fit?
that is similar to my plans with "the b**ch" I have previously owned a few HIGH power street cars, but yet to play with forced induction
from what I have researched ,I feel you will be better off stroking it with a good quality forged STEEL bottom end, which won't give you much change from $2500, but the beauty of the inj windsor is that you can run either type of blower (centre mount or offset) at a reasonable price
I have opted for an eaton M90 and stroking it out to 355cui, simply due to the availability the parts required.
the main reason I would stroke it is, the low down torque achived with a smoother more user friendly cam, making it more of a daily driver with good fuel economy when treated right!
another option is to have 2 different sets of pulley ratios one for cruising & one for buisness.
The sky is the limmit, but the paycheque is reality, don't just jump in get some proffesional advise before buying another "dust collector" , kenny
_________________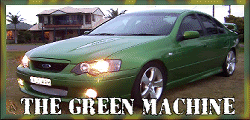 IF YOU HAVE IT UNDER CONTROL
YOU SIMPLY DON'T HAVE ENOUGH POWER!!!
Detroit 8V71 for sale, taking offers