t2te50 wrote:
XH5LWEPN's 236RWKW sounds like a bit of a gross exhageration. I won't dispute the time, its a ripper.

I dunno about a gross exhageration but thats what it made on the day and it was the same dyno it pulled 284rwhp on when it was first tuned. Sure the air temps were high so the weather correction would have been a bit out, but, what do you do? It still didnt even reach peak power as it was hitting the 180km/h speed limiter. We found peak power @ 5600rpm in 3rd gear, overlayed the graph and it may have pulled 325rwhp on that day if the speed limiter was not present.
I will have to get it back on for another run in cooler conditions so theres not as much need for the weather correction in the dyno.
Everybody quotes their dyno readouts so i will too, wether it be correct or not. As everybody knows, its not going to give a correct/right/exact reading, its only a tuning tool, but if you want to quote what it ran than everybody sould be able to. The only way to compare another car to another is to be run on the exact same dyno on the exact same day.
The 317rwhp i pulled may not be correct but i have i have no doubt that it has 300+ HP @ the tyres, i have the ET and MPH to prove it.
Here it is.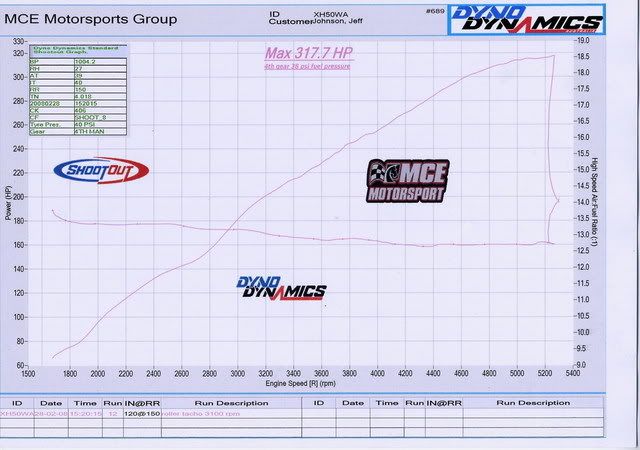 _________________
STREETBUILT RACING
1999 XHII Falcon XR8 Ute 5.0L, TKO600 5spd, KB 2.1L Blower, 6.5psi, 12.2@113mph!!