hans hartman wrote:
hi kenny, spent 2 days chasing vac leaks on motor,then behind dash,didnt pull out dash, only glove box-front fascias,changed heaps of dead globes, cleaned the resistor housing (heaps of leaves stuck in there -ran the blower and cleaned the front of the core-fire hazzard???????) checked all the fittings and lines -changed a few hoses----------it works, dont know the main problem =fixed and changed too many,
cheers hans
ive looked high & low, and found it to be a bent & cracked metal line on the manifold, and idle bleed gasket leaking and then the jackpot! the switch itself was leaking but only when turned fully to cold, if turned clockwise even 1/2mm it stopped hissing, so I'll replace that when "I get around 2 it"
I know what you mean bout the dead globes! there must be 5 or more in my dash too.
cheers kenny
_________________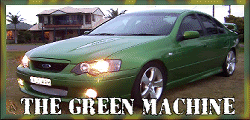 IF YOU HAVE IT UNDER CONTROL
YOU SIMPLY DON'T HAVE ENOUGH POWER!!!
Detroit 8V71 for sale, taking offers